London, Ontario — June 17, 2015
By Mike Davey
For the last six years, the Tire Take Back event has been turning discarded tires into community benefits and helping to fulfill dreams for kids.
This year marks six years of The Ontario Automotive Recyclers Association (OARA) raising funds for Sunshine Foundation through its Tire Take Back program. From June 1 to 6, participating OARA Members across the province took in used tires and donated the collection fees help fulfill dreams for Sunshine Kids through the Individual Dreams and DreamLift programs. Since 2010, OARA and its Members have raised over $800,000 for Sunshine Children.
Tire Take Back is a collaboration between OARA and Ontario Tire Stewardship (OTS), with many companies such as collectors, haulers and processors donating time and resources to make sure all the funds go straight to charity.
This year, a new partner entered the mix: the Ontario Federation of Agriculture (OFA) and its already started showing benefits. One farmer may have donated well in excess of 7,000 tires this year, although final numbers have yet to confirmed.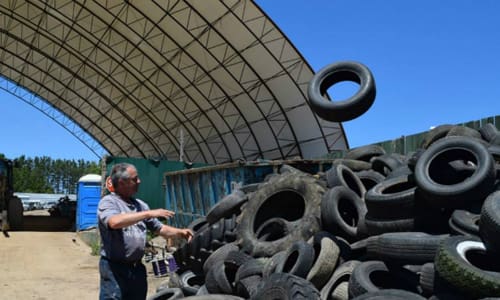 That's not a tire, those are dollars in the air. Donated time and services from recyclers, haulers, processors and other partners mean funds go where they can do the most good."The word is getting out, but we still have more work to do when it comes to building awareness," says Steve Fletcher, Executive Director of OARA. "However, there are already a number of success stories from the agricultural side, just from the first year."

And no wonder. Discarded tires sitting in a field are no good to anyone, plus they are both an environmental and a health hazard, as tire piles serve as almost an ideal breeding ground for mosquitoes. Once they're collected and processed, however, they're a definite benefit.

Discarded tires can be recycled into a wide variety of consumer products, saving energy and raw materials. That's a great benefit and it shouldn't be discounted. However, for most of the people involved, it's the benefits for the Sunshine Foundation kids that really count.
"I think the most inspiring part of this community program are the participants, the businesses that get involved," says Spannbauer. "There's this amazing group of organizers, OARA, OTS and the Ontario Federation of Agriculture, forming the leadership that's moving us forward, but it's the companies that participate, the collectors, the haulers and the processors that really are the backbone to this program."
For more information on Tire Take Back, please visit rethinktires.ca.
Click here for our Facebook gallery, with over 30 exclusive photos from events around Ontario!