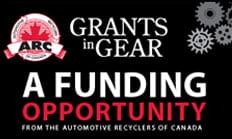 Toronto, Ontario — May 14, 2015
The Automotive Recyclers of Canada (ARC) and Summerhill Impact have announced the four winners of the Grants in Gear funding program.
Each submission was evaluated by a five-member jury, looking for an applicant's potential to achieve their stated environmental results and deliver against their proposed work plan and budget. The winners, located throughout Alberta and Ontario, will each receive up to $25,000 to help execute their programs and advance the environmental outcomes of their automotive-related projects.
"The review committee was impressed with the caliber of applications this year," says Teresa Di Felice, Director, Government and Community Relations of CAA South Central Ontario. "The winners represent the exciting programs happening in Canada to address sustainability in the automotive and transportation sectors by addressing real-life situations and educational opportunities."
The four winners are as follows:
1. University of Waterloo Alternative Fuels Team, who will convert a 2016 Chevrolet Camaro into a hybrid vehicle decreasing the vehicle's emissions, while increasing its efficiency and maintaining its performance.
2. Centre for Indigenous Environmental Resources (CIER)(in partnership with Fort Albany First Nation (FAFN), Moosonee Transport Limited and Summerhill Impact), who will develop a long-term Waste Management Plan to recycle and responsibly manage end-of-life vehicles in the Fort Albany First Nations community.
3. Inside Education, who will deliver the Clean Air Responsible Schools (CARS) education project to develop an education and action plan aimed at educating students about air quality, specifically related to idling, around their school.
4. Sustainable Waterloo Region, who have developed the TravelWise@School pilot project to implement School Travel Action Plans that will increase active transportation and reduce emissions of both students and parents.
Now in its second year, Grants in Gear is a nation-wide program that works to provide funding to Canadian environmental non-profit organizations to help achieve tangible results in emissions reductions or pollution prevention in the transportation sector and/or excellence in automotive recycling techniques.
To learn more about ARC, please visit autorecyclers.ca.
For more information on Summerhill Impact, go to summerhillimpact.org.