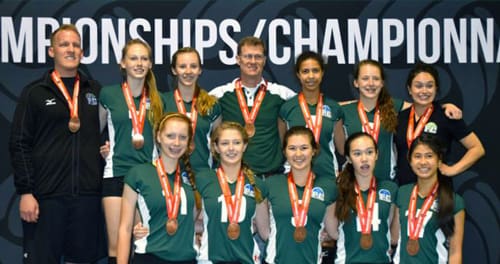 By Steve Fletcher
London, Ontario — June 17, 2015 — This season, the Forest City 15U Green Team from London, Ontario had a very successful volleyball season, in part due to good coaching, talented athletes, dedicated parents — and the support of the Canadian auto recycling industry.
As Managing Director of the Automotive Recyclers of Canada (ARC), I have had the honour of representing the auto recycling industry in Canada and increasingly on a global basis. Over those 23 years I have gotten to know hundreds of members on both a personal and professional level.
My daughter, Iris Fletcher, joined an already successful club team with a great bunch of girls last year. They had their sights set pretty high, and that sometimes takes a bit of money to achieve. The team organized a raffle draw for a series gift baskets. I thought, "Why not send a quick note out to see if anyone wanted to buy a ticket or even sponsor the team?"
The response was overwhelming, generating over $4,100 in tickets and outright sponsorship.
These monies helped to provide outstanding coaching throughout the season by offsetting the travel costs for all three of our great coaches to be with the team at all tournaments, right up to the Nationals in Calgary Alberta.
The Forest City 15U Green Team has had a successful season.The team had a very successful season, placing fifth out of over 150 teams at the Ontario Championships, and winning Bronze at National Championships in Calgary in May. Along the way, they compiled a record of 33 wins/5 losses at the U15 level, and 10 wins/5 losses at the U16 level — in addition to collecting 2 Gold, 3 Silver and 2 Bronze medals.
Throughout the season, after each tournament, I tried to send a few pictures and results, hoping not to bother already busy people. But I knew they were engaged when a few would email asking, "How did Iris and the team do last weekend?"
I even had Media Matters' own Gloria Mann come out to a few games and start to learn the sport of volleyball!
On behalf of the Fletcher family, I would like to thank each and every one of our supporters. They helped make a great season even better, and reminded me of just how great the members of the auto recycling community in Canada truly are.
Thank you to: 400 Auto Wreckers, 404 Auto Recycling, AADCO Auto Parts, Aimes Auto Parts, Auto Parts Network, Bastarache Auto Salvage, Brown's Auto Salvage, Carcone's Auto Recycling, Cookstown Auto Centre, Copart Auto Auctions, Coreline Auto Parts, Couper Marketing Services, Dave's Auto Parts, Direct Auto, Dom's Auto Parts, Doug's Auto Parts, DSK Enterprise, Dugas Auto Recyclers, Glencoe Auto Recyclers, Gloria Mann, Green's Auto Parts, Hank's Auto Wreckers, Hotch's Auto Parts, Impact Auto Auction, Island Auto Supply, J & B Auto Recyclers, King's Auto Recycling, LKQ Sonshine Auto Parts, Maritime Auto Parts, McGregor Auto Parts, Millers Auto Recycling, MK Auto Recyclers, P&G Auto Recycling, Progressive Auto Parts, Public Inc, Rush Auto, Salvage Supply & Technology, Summerhill Group, Summerhill Impact, Sunrise Towing & Salvage, Team Auto, Trillium Tire, and Wholesale Auto Parts Warehouses.