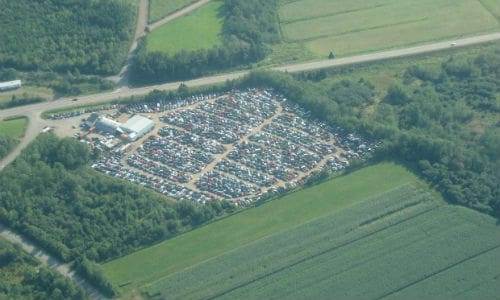 By Jeff Sanford
Halifax, Nova Scotia — August 12, 2015 — Automotive recycler Maritime Auto Parts will expand this fall to a new location following the recent acquisition of Wayne Giles Auto Salvage.
The head of Maritime Auto Parts, Andrew MacDonald, says he will operate the new location as a second retail facility and a "u-pull" operation.
"It's going to be an open, self-service yard, pick-your-part type of operation," says MacDonald. This will be the first pick-your-part operation in the Halifax region. "Most major cities have one, except for Halifax. A lot of people are excited."
Three years ago MacDonald took over Maritime by buying out his parents, Ed and Lana MacDonald. Now he's consolidating and growing the Halifax recycle industry. He said he approached Wayne Giles about making a deal, and Giles was amenable. Wayne and Lora Giles owned the business for over 12 years, and were instrumental in that time, both in building the business and as members of the Automotive Recyclers Association of Atlantic Canada (ARAAC). MacDonald also acknowledges that the staff at the newly-acquired yard are at the top of their game.
"They're a great crew, and we're all looking forward to working with them," he says.
The new facility will reopen this September with more than 2,000 cars on site. The new combined company will have more 1,000 cars, a number that has risen sharply as a result of this past winter, which was an intense one. The East Coast, of course, experienced massive winter storms this year. Accidents were numerous.
"We're really busy. Because of this past winter we had a lot of cars. We were buried in snow for two months," says MacDonald. "We're still recovering. We're still processing them all and getting them in the system. We have purchased 50 percent more cars this year than last year."
The huge snowfall made the day-to-day business of managing the yard tricky. Another recent challenge has been the price of steel, which has dropped. This is a fact of life all recyclers are dealing with today. But the low price is not deterring MacDonald.
"You don't want to stop the process. You want to keep flying even if the price of steel is low," he says.
For more information on Maritime Auto Parts, please visit maritimeauto.com.