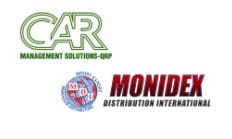 By Mike Davey
Toronto, Ontario — August 18, 2015 — CAR-MS QRP Group of Recyclers has announced the signing of Monidex Distribution as the newest member of the CAR-MS QRP Group. A statement from CAR-MS QRP says that as a leading importer and wholesaler of automotive aftermarket sheet metal and mechanical parts, Monidex is a perfect fit.
Pat Ryan, VP of Operations for CAR-MS QRP, describes the union as "beneficial to our member recyclers, allowing the members to offer quality CAPA certified parts in addition to their recycled parts offerings. Furthermore, this link with Monidex is a result of listening to our collision repair customers who have been asking us to provide a one stop solution for all their recycled and aftermarket parts needs. We believe that this solution solves a great need within the repairer community for reduced cycle time in the parts sourcing area of their business. We look forward to our Ontario launch date of September 1, 2015."
Sal Polletta is the owner of Monidex Distribution. The company is headquartered in Anjour, Quebec. He says this will have advantages for both CAR-MS QRP member facilities and their customers.
"Starting September 1, we'll be able to get them the parts they need first thing in the morning," says Polletta. "If they get an order in by 1:30 pm, we'll have it to them first thing the next morning."*
For more information, please visit car-ms.ca.