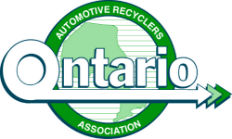 London, Ontario — August 26, 2015 — Greg Woodbeck of Woodbeck Auto Parts in Stirling, Ontario has been appointed to the Ontario Automotive Recyclers Association (OARA) Board of Directors. A vacancy in the Board occurred when Don Fraser of AADCO Auto Parts stepped down earlier this month.

"I would like to welcome Greg to the OARA Board of Directors and thank him for his willingness to step in mid-year. I am looking forward to working with Greg and the rest of the Board as we continue to work towards a licensed level-playing field within the auto recycling industry," said OARA Chairman Wally Dingman.
Woodbeck is a graduate of Acadia University where he completed his studies in Economics. He joined the family business in 1999 and has held various roles within the company with ever increasing responsibility. He has been an active member of the association as a member of the Membership Committee and currently chairs the Data Stream Committee, roles he will continue with while on the Board. Woodbeck follows in his father's footsteps with his involvement in shaping the future of the industry. Bruce Woodbeck was a founding Board Member of OARA and one of its original Chairmen.

"I look forward to working with the current Board and serving the membership of OARA. With the numerous issues facing our industry it's so important to have an association like OARA and continue the hard work that has been done," said Woodbeck.

OARA is a voluntary industry association representing 125 businesses primarily engaged in the acquisition of End-of-Life Vehicles (ELVs), their proper treatment and handling, and the subsequent recycling or re-use of the parts and materials recovered. For more information, please visit oara.com.