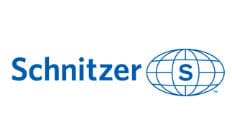 By Jeff Sanford
Victoria, British Columbia — August 31, 2015 — A barge loaded with several hundred crushed cars tilted Friday afternoon, spilling twenty vehicles into Victoria's inner harbour.
The recycled vehicles are owned by US recycler Schnitzer Steel, which operates steel recycling and auto parts recovery operations across Canada and the United States. The cars had been loaded on a barge to transport them to another facility when the barge tipped just a few feet from shore.
The British Columbia Ministry of the Environment deployed a boom around the barge, and a statement from the Ministry says it doesn't expect their to be any ecological damage from the tipped barge. Regulations require that fuel be removed from vehicles before they are loaded. Reports from the scene suggest that a sheen of hydrocarbons can be seen in the water, but the boom is expected to contain the spill.
Schnitzer was founded as 1906 as a one-man scrap metal operation. The company owns the Pick-N-Pull self-service auto parts recycling chain of stores. That operation has a couple of stores in Western Canada. Today, Schnitzer operates 107 recycling facilities, with locations in seven deep-water ports. This allows the company to shop raw materials to steel mills and foundries around the world. Schnitzer buys a large number of used and salvaged vehicles annually (about 350,000) from tow companies, auto auctions and city contracts (among other sources). The company has its corporate headquarters in Portland, Oregon. It has traded on the NASDAQ Stock Market under the symbol SCHN since its IPO in 1993. The company has paid a dividend every quarter since it went public.
You can see a photo of the tipped barge below:
Shoutout to @Nikki2987 who just had a giant barge full of scrap cars tip over in the Gorge in front of her house pic.twitter.com/ShDzi5kROq

— Stephanie Arnot (@StephanieArnot) August 28, 2015