Toronto, Ontario ⁠— The Ontario Automotive Recyclers Association (OARA) wrapped up its Spring Training series last week. The four-part educational seminar covered topics largely born from discussion at the April 2022 OARA Convention and Trade Show.
EZ-Suite's Chris Atencio, director of sales, and Alex Bechstein, director of operations, led last Wednesday's session. The duo touched on the company's suite of products, which includes EZ-Runner, EZ-Route and EZ-QC, though the session focused on the features of EZ-QC.
"Each of our programs can run independently from the others⁠," explained Atencio. "You can pair them, too, or take advantage of what all programs have to offer and use the entire suite."
The EZ-QC program is an alternative order fulfillment software solution said to offer more accountability, efficiency, transparency and "unmatched customization" than other providers, according to EZ-Suite. The company says its system streamlines a business's current process and eliminates unnecessary trips to the computer for your order fulfilment staff.
Some high-level benefits include bi-directional integration with Pinnacle and Powerlink; the ability to create automated invoices in both QC and Pinnacle/Powerlink; cross-platform visibility and more.
Atencio shared a handy graphic to illustrate the visibility provided by the EZ-QC system.
"If I have a customer that wants these three parts⁠—a door from a Pinnacle yard, a headlight from a Hollander yard and a hood from a Checkmate yard⁠. I don't have to be on any other platform; I'm ordering what I'm ordering and everything will be processed through QC."
He added that users of the EZ-Runner software would already be aware of the tracking visibility the platform provides.
"Throughout this entire process, everything I need to do to get the product to the end-user will be handled by EZ-Suite of products."
Atencio continued to outline order processing with Pinnacle Professional and Production Manager 3.0 as compared to EZ-QC.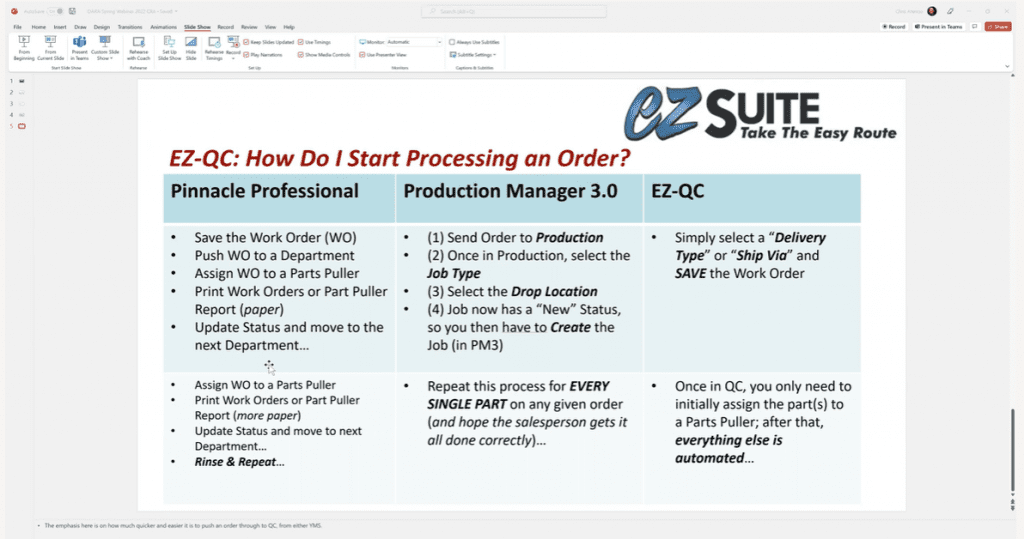 "On Pinnacle, I have to save the work order, push it to a specific department, assign it to a parts puller and print out a work order or part puller report. I have to do that for everything I assign⁠—then the status is updated and pushed to the next department, where the next person does the whole process over again.
"On Production manager, my salespeople have to go through four steps: send it to production, select the job type and drop location⁠—and then you create the job. You repeat this process for every single part.
"With EZ-QC, you select your 'delivery type' if you're a Pinnacle yard or 'ship via' for Powerlink, then save the work order. You save and exit and you're out of there."
For more information on the EZ-Suite of products, visit ez-suite.com.
Have any suggestions for future OARA Training sessions? Contact Steve Fletcher to have your ideas heard!