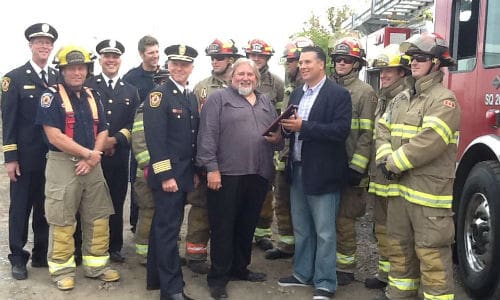 Brampton, Ontario — September 16, 2015 — Don Fraser was recently thanked by Brampton Fire and Emergency Services for helping to keep residents safe.
Until his recent retirement, Fraser owned AADCO Auto Parts in Brampton. Over the last few years he frequently opened his yard to be used as a training area for firefighters, as well as donating hundreds of vehicles to assist in extrication training.
Fraser was presented with a plaque honouring his achievement during an event at AADCO Auto Parts location on Hansen Rd. in Brampton. Firefighteres also demonstrated their extrication skills during the event. The plaque was presented by Fire Chief Michael Clark, Deputy Chief Peter Gatto, Councillor Michael Palleschi and Platoon Chief Paul Bebbington.
"Obviously I'm honoured," says Fraser. "We're always glad to be able to help the firefighters in our community. If it helps them do their jobs and save lives, then it's definitely been worth it."
For more information, please visit aadco.ca.