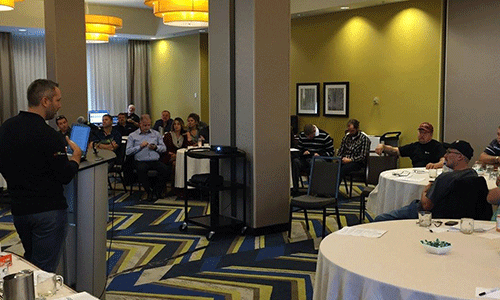 Halifax, Nova Scotia — October 28, 2015 — Auto recyclers and industry associates recently gathered for the annual Automotive Recyclers Association of Atlantic Canada (ARAAC) meeting where two new direct members were welcomed to the fold.
"We have grown as an association and now have 32 direct members in ARAAC, in addition to our 10 associate members," says Automotive Recyclers of Canada (ARC) Executive Director Steve Fletcher. "We are very pleased with our growth as an auto recycling association."
The new members include O'Briens Recycling, located in Montague, Prince Edward Island, and DR Auto Works Inc. in DSL de Drummond, New Brunswick.
ARAAC Delegates met from October 16 to 17 at the DoubleTree Suites Hollis Halifax hotel in Halifax, Nova Scotia to discuss industry trends and engage in training opportunities. Members also received a regional CAREC update showing that six audits completed in 2015 saw companies improve their score from 2014, with an average mark of 88.3 percent.
No new elections were held at the convention, leaving the executive board in place. The board remains as follows:
Andrew MacDonald, President
Dalbert Livingstone, Vice-President
Heather Langille, Secretary
Shelley Roy, Treasurer
Derek Covey, Past President
Glenn Vatcher, Director
Ron Bastarache, Director
Guest presenters at the meeting included James Julian of RAS Cores, Hollander's Brian Heidt, Henk Huijgen of ELV Select, and Luke Gamm from Car-Part. Convention sponsors included Monidex Distribution, Impact Auto Action, and Wholesale Auto Parts Warehouses.
Members will next meet in 2016 from June 10 to 11 in Truro, Nova Scotia, with ARC's board of directors planning to attend the conference.
For more information, please visit ARAAC online at aarac.ca.