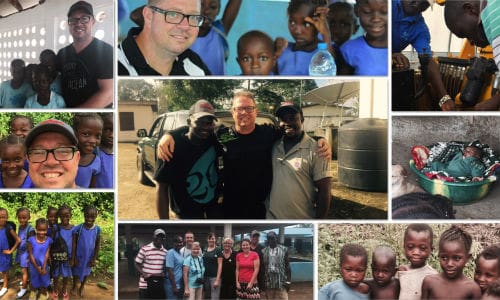 St. Thomas, Ontario — October 28, 2015 — The owner of McGregor Auto Parts recently returned from a compassionate and life-changing trip to Sierra Leone, Africa with the grassroots organization, Let Them Laugh Out Loud (LOL).
Jeff McGregor had travelled to the West African country as part of a team to support a paediatrician from St. Thomas, Ontario and his wife, along with three staff members from the St. Thomas Elgin General Hospital. The purpose of the trip was to provide medical care to the residents of Mano, a village located in Liberia. The team saw over 200 children, some of whom were in a very grim state, but were able to receive lifesaving medical care.
Sierra Leone is known to be one of the poorest areas of the world, and one LOL has been focused on helping since the organization's inception in 2009. The village children never get to see a doctor, and this mission offered a first experience for many. McGregor assisted in measuring the kids to ensure proper growth, handled their paper work, crowd control, and was also on hand to assist the medical staff. Along with giving a lot of love and hope to these children, he also taught the men to fix some of their mechanical equipment, and installed a throttle cable on their drill rig used to drill wells for precious water.
"Going to Sierra Leone has been far different than any other mission trip I have done," says McGregor. "These children are in such great need beyond just their basic needs. You go thinking you're going to help them—and you do, but in reality it is your life that is changed. In spite of their circumstances, they show unconditional love and smile every day. Working with my new African friends and fixing the drill rig was such a blessing as they need to be able to drill for six more wells in October."
The trip was part of McGregor Auto Parts'commitment to community and humanity.
"Jeff and I have been very blessed in so many ways," says his wife, Shelly. "We may not be able to change the world and at times we feel like a drop of water in a very big ocean of poverty and need, but we can give hope and love one child at time. Children belong to all of us and we are compelled to intervene on their behalf. We must invest in children all across the world."
McGregor says the trip has left a lasting impression on him.
"It was hard for me to say goodbye and leave the children behind in the unbearable heat and living conditions to come back to my comfortable life. I think about them every day and hold a much different outlook on life today because of them," he says.
For more information, please contact Jeff and Shelly McGregor at 519-631-4801, or visit Let Them Laugh Out Loud (LOL) at ltlol.com.