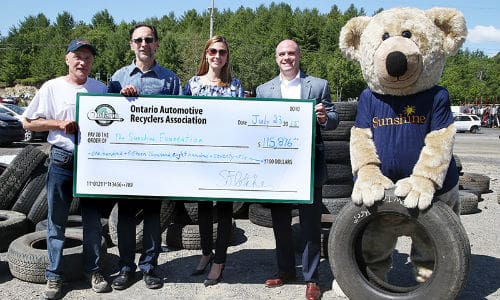 Toronto, Ontario — July 29, 2015 — Earlier this year in June, as part of the sixth annual Tire Take Back event, Ontarians came together to collect tires in order to fulfill the dreams of Ontario children within The Sunshine Foundation of Canada's network. Between June 1 and 6, Ontarians were encouraged to drop off as many of their used tires as possible at participating collectors across the province. Organized by Ontario Tire Stewardship (OTS) and the Ontario Automotive Recyclers Association (OARA), in association with Ontario Federation of Agriculture (OFA), Ontario residents collected 62,891 tires, helping raise $115,876 for The Sunshine Foundation of Canada.
"Ontario's continued commitment to responsibly recycling their used tires and enthusiasm for the Tire Take Back program never ceases to amaze me," says Andrew Horsman, Executive Director of OTS. "We are thankful that together we are able to fulfill so many dreams through The Sunshine Foundation and responsibly recycle Ontario's tires along the way."
Tire Take Back is a friendly competition across Ontario communities and this year, Rock City Auto Supplies in Sudbury, Ontario came on top, collecting 14,837 tires, resulting in $26,238 of the total funds raised for The Sunshine Foundation. Over six years of Tire Take Back, upwards of $900,000 have been raised through the program.
"The dedication and spirit of our participating collectors and haulers in support of The Sunshine Foundation of Canada is always remarkable," says Steve Fletcher, Executive Director of OARA. "We started the Tire Take Back event because we and our members believe in the work The Sunshine Foundation does. We're proud to work together with great partners to bring awareness to responsible tire recycling."
Haulers in particular may merit special thanks. Not only did participating haulers move a mountain of tires, but the companies also contributed over $60,000 in donated Hauling Allowances. This is a huge financial part of the total donation. The participating haulers this year were Black2Green Tire Recycling, Envi-recycle, Green Arc Tire Recovery, Liberty Tire Recycling Canada, Retire Your Tire and Trillium Tire.
"We are deeply grateful to be the charity partner supporting this dedicated partnership of OARA, OTS and OFA. 2015 has been another outstanding year of tire collection with tire currency providing vital funds for Sunshine's Dreams for Kids programs," says Nancy Sutherland, Chief Executive Officer of The Sunshine Foundation of Canada. "The Tire Take Back recycling program gives tire donors the opportunity to see new dreams come true from old tires. Children living with severe disabilities or life threatening illnesses can dream big knowing communities across Ontario have come together to support their most cherished dreams. On behalf of our staff and volunteers, thank you OARA, OTS, OFA and each hauler and processor for making this year such a resounding success."
The Sunshine Foundation of Canada was presented with a cheque during a ceremony held on July 23, 2015 at Rock City Auto Supplies in Sudbury, Ontario.
For more information Ontario Automotive Recyclers Association, please visit oara.com. For more information on Ontario Tire Stewardship, please visit rethinktires.ca.