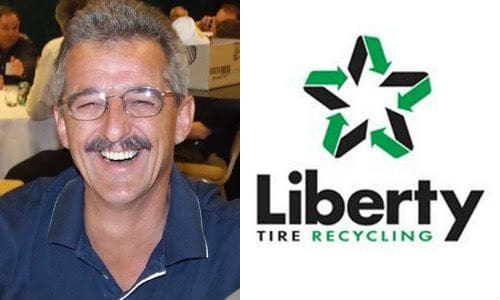 Brantford, Ontario — November 25, 2015 — It is with deep regret that we must report the passing of Mike Moffat. Many in the Canadian automotive recycling industry from his work with Liberty Tire Recycling.
Moffat passed away on Friday evening in Brantford, Ontario, after a year long battle with cancer. He was a great supporter of the Ontario Automotive Recycling Association and the industry as a whole, and tirelessly worked in the tire recycling industry he loved. He will be missed by many.
Moffat was the beloved husband of Lynda (Shaver) Moffatt, and a loving father to Adam (Rachel), Scott, and Erin (Tom), and the grandfather of Mikey, Mikaela, Xander, and Audrey. Moffat will also be remembered by his brothers and sisters, his nieces, nephews, aunts, uncles, cousins, the Shaver family, and not least by the many people he touched through his years with Liberty Tire Recycling.
The family honoured his life with a visit ion at the Hyde & Mott Chapel, R.H.B. Anderson Funeral Homes in Hagersville on Tuesday, with a celebration to remember his life held in the chapel on Wednesday November 25.
As an expression of sympathy, donations may be made to the Simcoe SPCA. Condolences for his family may be left at rhbanderson.com.