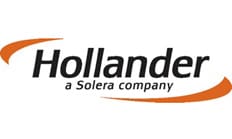 Minneapolis, Minnesota — July 2, 2015
Hollander has announced that the company will host its third Regional Training Summit in Detroit, Michigan. The next instalment of the series will be held at the Marriott Ypsilanti at Eagle Crest on August 29.
The company says the full-day summit aims to increase yard efficiency and profitability with 10 educational sessions across three informative learning tracks, including inventory, system management and advanced Powerlink reporting. The event marks the third summit in six months, as the series expands across the US.
"Two successful summits have confirmed that training is exactly what our customers were looking for," says Anders Moeller, Hollander Managing Director. "Our attendees are eager to learn about our core products, so based on customer response we may add even more sessions concerning products such as eLink and others."
Hollander previously hosted northeast regional customers at Philadelphia's Ace Conference Center on June 27, adding a session track to the original two presented at the first summit, held in Atlanta, Georgia. According to the company, the additional content provides more advanced users a broader diversity of sessions to attend.
Hollander's Regional Training Summit series was created to educate users on Hollander products, with a focus on learning best practices for setting up and managing business operations, stores and employees in the Powerlink yard management system. The Technology Test Drive Center (TTDC) is also made available for product and yard specific questions. The TTDC is staffed by Hollander service experts, the Hollander sales team and a representative from eBay Motors to field questions.
"We understand taking classes all day means a lot of information to process, so we provide a more casual environment for customers to talk with our experts and other attendees afterward, to keep them engaged and learning as much as possible," says Moeller. "We want to make sure they return home with new ideas to leverage their investment in Hollander products even more."
The August 29 sessions run from 9 a.m. to 4 p.m., wrapping up with a post-session reception social hour. Food and drinks will be provided.
For more information, please visit hollandersolutions.com.