Are your goals aligned with the times? The industry is watching
By Allison Rogers
Who doesn't love a competitive advantage? Environmental Social Governance (ESG) strategies are all the rage across the Canadian business and regulatory landscape and beyond and have the potential to spur powerful partnerships. While much of today's conversations in reporting ESG strategies and goals are centred around large enterprises, small and medium-sized businesses are impacted by the ripple effects. Automotive recyclers stand to reap great rewards from this growing trend.
If you're asking yourself what ESG means, the principle is represented by three pillars. The social pillar represents health, safety and community outreach. The governance pillar represents diversity, corporate behaviour and business ethics. Environmental is the category auto recyclers could be concerned with and measures a company's waste management, material sourcing and carbon emissions. If your business can demonstrate a potent promise in sustainability backed up by action, that makes you an attractive partner for larger businesses seeking operations that would help with their sustainability goals.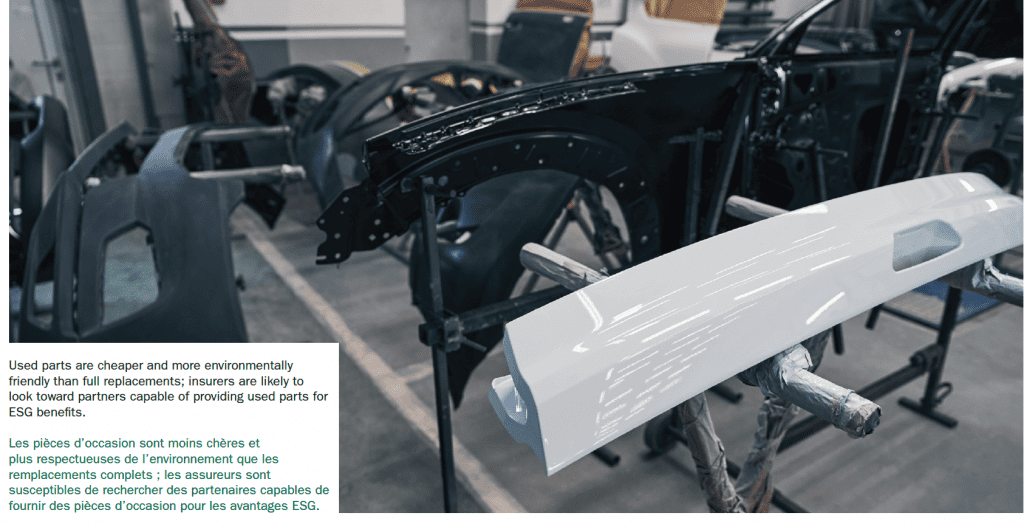 WHY DOES A SMALL BUSINESS NEED AN ESG STRATEGY?
• The Government of Canada and Canadian regulators have signalled mandatory, impending climate-related disclosures
• 62 percent of mid-market businesses believe sustainability is as important or more important than financial success, says accounting advisory firm, Grant Thorton
• When attracting young talent; Gen Z prioritizes high diversity, equity and inclusion standards—and they will comprise 75 percent of the workforce by 2025, says Grant Thorton
• A long-term plan in environmental, social and governmental strategies can signify strength to potential industry partners, investors.
For instance, as Woodbeck Auto Parts owner Greg Woodbeck puts it, "an insurance company declares a total loss; those parts become available. If the parts are used to repair an existing vehicle—there's no replacing and the customer doesn't have to buy a new vehicle. Obviously, that makes an insurance company more sustainable, on paper," he told Canadian Auto Recyclers.
The road goes both ways, too; certain investment firms have committed their investments strictly to companies with ESG reporting in place. "That pushes the marketplace to respond to these big, institutional investors," said Steve Fletcher, managing director of the Automotive Recyclers of Canada (ARC).
That's not to suggest that all automotive recyclers, dismantlers and used parts businesses are required to commit teams to ESG reporting—at least not anytime soon. As mentioned, your unique position as an existing sustainable business—one that healthily contributes to environmental efforts—makes automotive recyclers an attractive business partner.
The big players don't necessarily dictate the market, though. Small and medium-sized businesses should not be forgotten as the big players move to more sustainable practices in response to regulatory requirements. Smaller players, too, can reap the benefits of the trickle effect.
Placing value in ESG pillars can also make a business more attractive to the young job market. According to research from accounting firm Grant Thorton's International Business Report survey, generation 'Z' and millennials prioritize higher standards in diversity, equity and inclusion when seeking a new role. The firm's data suggests the Gen Z and millennial demographics will make up 75 percent of the workforce come 2025. There are areas of focus in each of the three pillars; tactics to hone in and record information on.
In the environmental realm, auto recyclers should ensure they have or comply with a climate change strategy and manage their air and water pollution, resource depletion, carbon intensity and overall impact on biodiversity. Are your chemicals properly controlled? Are there ever any accidental spills or areas of improvement in waste management protocols? Dig deep and detail how your business cooperates with climate goals and regulations.
Under the sustainability umbrella, small businesses should plant their focus on sourcing from sustainable supply chains—partners will track records of consistent and compliant resources, especially in the areas outlined here. Further, efforts should be made to ensure your business's approach to diversity, equity and inclusion is a healthy one and aligned with modern goals.
That includes areas of representation, health and safety of staff, labour rights and overall employee engagement. In other words, how's your culture? Do you take employee comments and concerns into consideration? Are your employees safe and happy in the workplace?
In the area of governance, ESG reporting prioritizes clear strategies in risk management, privacy and data protection and business ethics. Do your ethics reflect your business's actions, as outlined in the other areas of an ESG report? Further, investigations into a company's governance will look at any board compositions and seek whether its actions are executed responsibly, as per what is outlined in its reports.
Commitment to and compliance with one's ESG goals is not an overnight task; like any growth strategy, results are born in marathon times, not sprints. The first steps to developing and implementing ESG strategies are focusing on the areas outlined above and meeting with an advisor to ensure you are reporting information to withstand scrutiny from stakeholders and partners. You are aiming for progress, not perfection. Take a proactive approach, review the market regularly and ensure you keep pace with ESG principles and emerging trends.