David Gold, owner of Standard Auto Wreckers; Adam Grant, Chief, Markham Fire; and Brad Sterling of Markham Fire.
By Max Reid, Allison Rogers
Auto recyclers and firefighters, partners in rescue
It was one of the chilliest mornings yet, but that did nothing to dampen the vigour of Markham, Ontario and Oakville, Ontario's firefighter crews, who competed in the annual Auto-Ex Competition at Standard Auto
Wreckers last October.
David Gold, the owner of Standard Auto Wreckers, was generous enough to host the Markham and Oakville firefighting crews for a full day of training, with a little competition added to the mix.
The two teams were competing in the annual Auto-Ex Competition, which sees firefighters complete tasks in collision scene safety, vehicle stabilization, extrication and patient care.
Auto-Ex competitions have been a staple to the Ontario firefighting community since 1984, but this year marked Markham's first time competing. Dummies are placed in crushed vehicles in various positions to simulate a real collision. Teams are then given 20 minutes to get the patients out of their vehicles.
Each scenario is staged with real vehicles that are crushed together alongside other props—in this case, dummy hydro wires and a propane tank. Markham's first task was to retrieve a passenger from a side-impact collision, while Oakville was given a side-impact collision with the car of focus flipped on its side.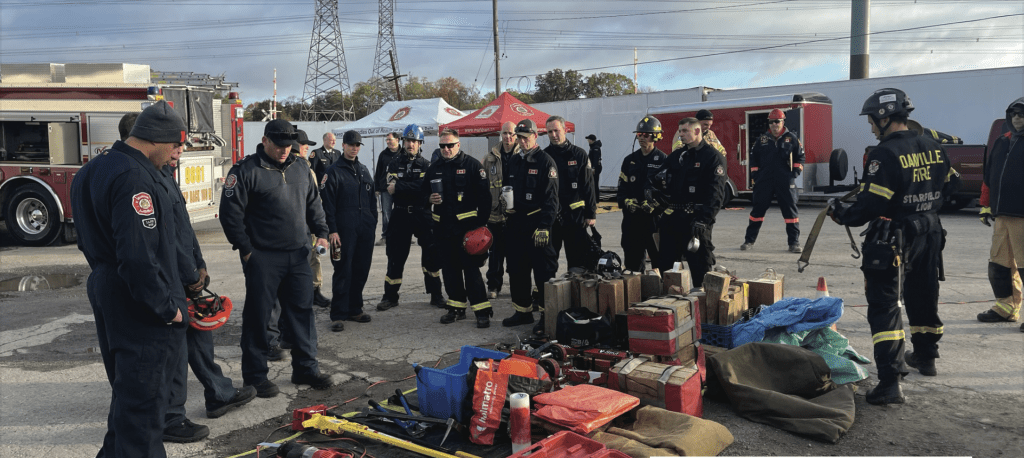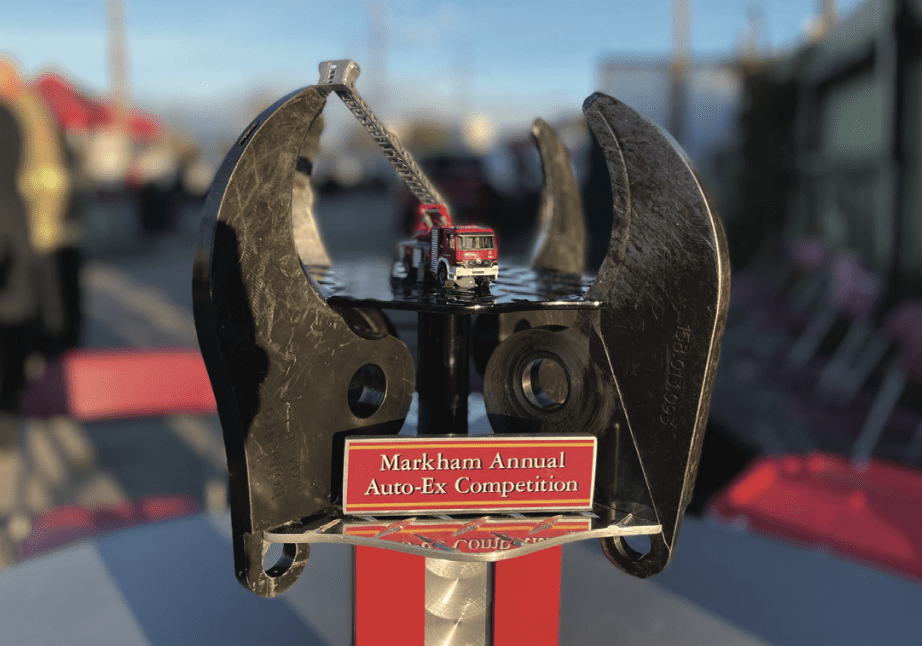 "This is a big deal for us," said Fire Chief for Markham Fire Adam Grant. "We're on a journey to modernize—we're a new department, it's not your grandfather's department anymore."
— Adam Grant, Fire Chief/chef des pompiers, Markham Fire
The second phase of the competition involved more intricate situations and allowed for the use of hydraulic tools.
Both teams have been training at Standard since early September.
"This is a big deal for us," said Fire Chief for Markham Fire Adam Grant. "We're on a journey to modernize—we're a new department, it's not your grandfather's department anymore."
At the end of the day, the Oakville team walked away with the coveted Auto-Ex trophy.
"We couldn't have done this without Standard Auto Wreckers," said Chief Grant. "We're absolutely thrilled to have this space and partner with you. You've all been absolutely incredible."
Markham Fire's incident commander, Ray Lalonde, said that the extra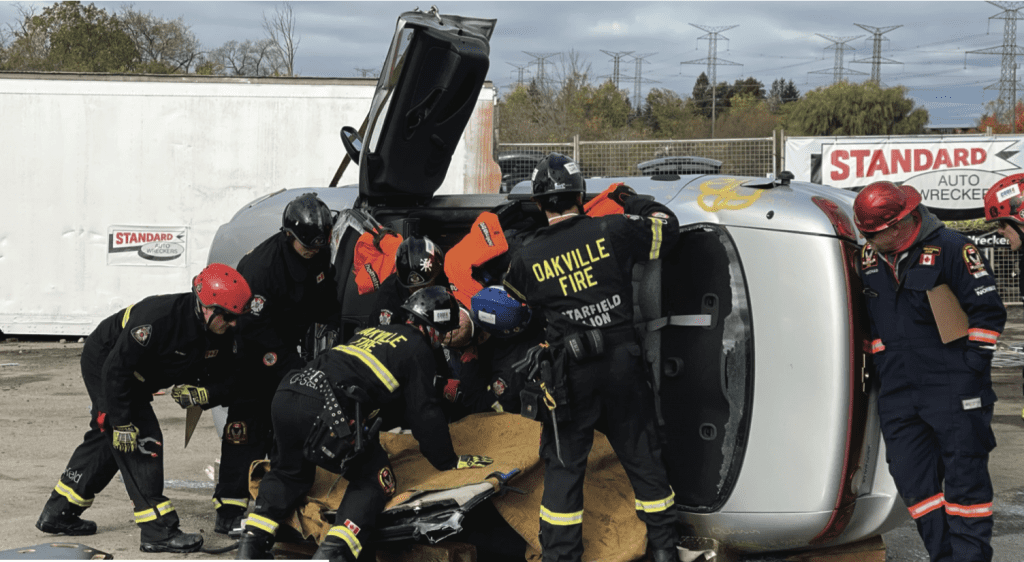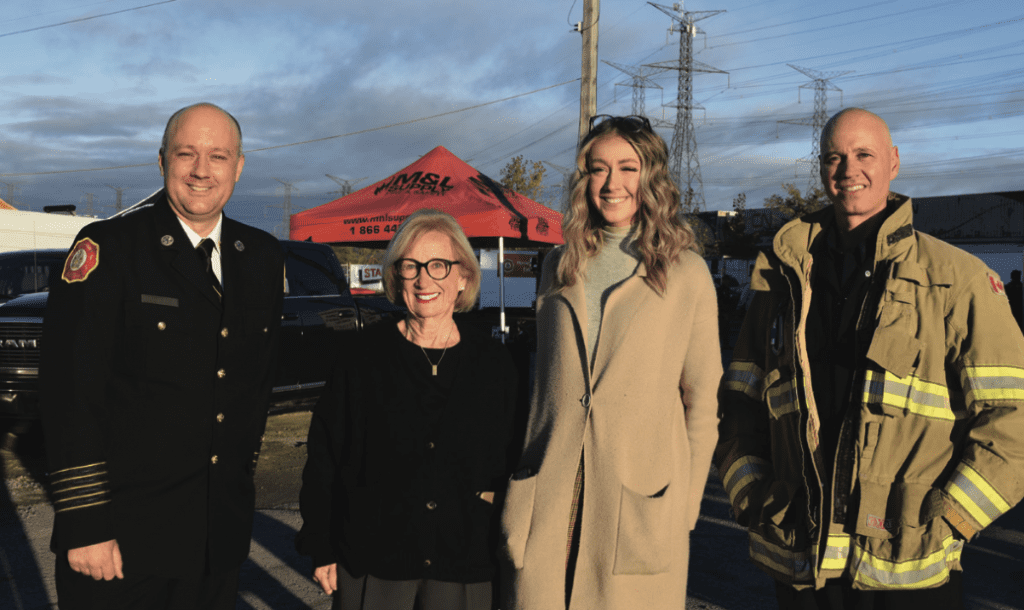 training is already starting to make a real-world difference, noting an excellent showing at a collision scene in January.
"Like most things, the more training the better. Firefighting is no different," said Lalonde.
"This was obvious at a recent motor vehicle collision in the west end of Markham.
"Thanks to the ability to train weekly at Standard Auto Wreckers, firefighters took on a challenging extrication endeavour with a mix of urgency and control that clearly showed their recent commitments.
"During this emergency, personnel stabilized the vehicle, prepped and completed the difficult extrication, all whilst maintaining an extremely high level of patient protection and care.
"With the use of step chocks, wedges, rapid struts and a reciprocating saw the crews on scene gained access to the patient. Firefighters could then enter the vehicle to mitigate the entrapments that occurred inside the passenger compartment.
"With the patient free, the crews finished off their great effort by providing sharps and edge protection with blankets and carpenters clamps that could only be described as textbook.
Lalonde then thanked Gold and Standard Auto Wrecker's for their commitment to this training and attributing part of that night's positive outcome to their devotion.