Toronto, Ontario — Mitchell released its Q1 2023 Plugged In: EV Collision Insights report on Tuesday, where the company reported that EV repairable claims frequency rose to 2.41 percent in Canada, up 0.15 percent from the company's previous report in Q4 2022.
Tesla remains the dominant player in the EV market, said Mitchell, thought the company's U.S. market share of repairable vehicles fell in Q1 2023 to 75.8 percent of all EVs repaired, down from 76.78 percent in Q4 2022. 
In Q1 2023, average repairable severity decreased to $4,749 in the US and $6,406 in Canada, which remains higher than ICE average repairable severity.
Tesla vehicles account for 60.09 percent of the repairable EV claims in Canada, with 41.22 percent Model 3s and 18.87 percent Model Y. Other EV models include the Nissan Leaf (6.40 percent EV repairable claims frequency); Hyundai Kona EV (6.32 percent) and the Chevy Bolt (4.62 percent).
EVs continue to lead the way when it comes to automotive complexity, wrote Mitchell, and their repair represents a "significant cost delta" over vehicles with internal combustion engines (ICE).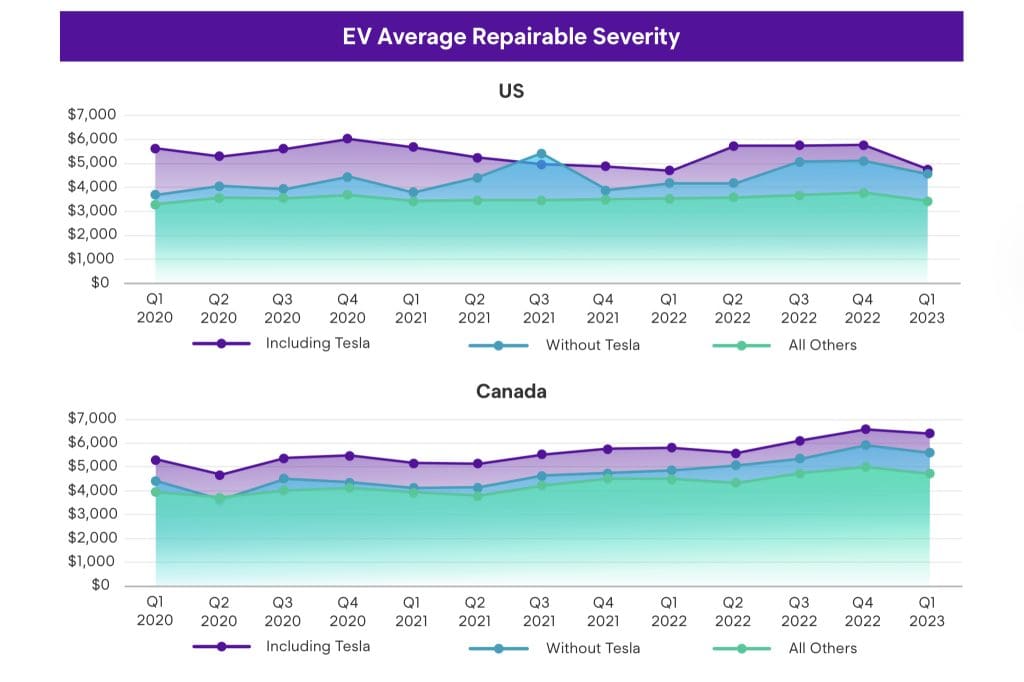 The previous Plugged In report noted that EVs not only require more mechanical labour hours on average, compared to their ICE counterparts, but also require more refinish hours with an average of 8.33 hours compared to 7.4 hours for the rest of the market. 
A closer look at these numbers reveals that Tesla accounted for the largest portion of this delta, considering 34.28 percent of Tesla repairs were written for a three-stage refinish operation, adding 7.83 percent of additional cost to the overall repair, reads Mitchell's report.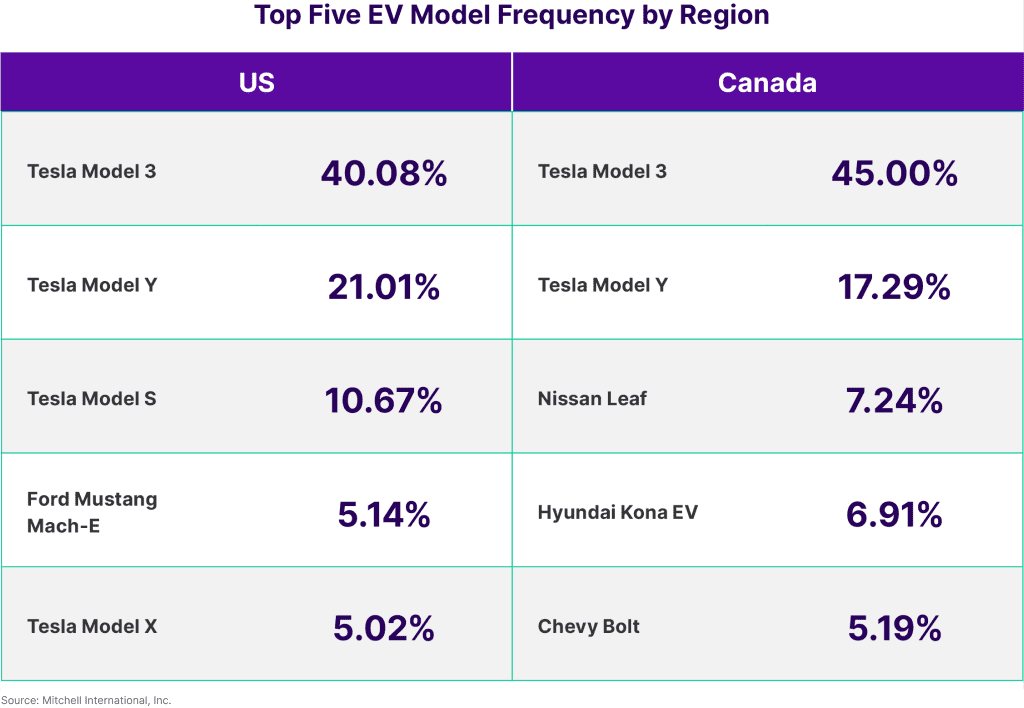 According to Mitchell's data, British Columbia is the top North American market based on EV repairable claims frequency at 4.8 percent, up 0.33 percent from Q4 2022. California follows at 3.7 percent EV repairable claims frequency, while Quebec sits in third position at 3.14 percent.