Toronto, Ontario ⁠— According to Plante Moran's OEM-Supplier Working Relations Index (WRI) Study, there is "rising tension" between OEMs and suppliers, largely due to increased risk to short-term cost recovery issues, production scheduling and supply chain disruptions as the industry transitions to electric vehicles.
"These are compounded by long-term strategic issues suppliers have, related to adequate insight into automakers' EV strategy and timing so they can effectively plan for the transition in terms of adequate capital, acquisitions and staffing investment.
"New market conditions, such as supply chain disruptions and new technologies that change product plans and manufacturing strategies, require short- and long-term forecasts and production schedules to be more accurate and to be communicated more timely with suppliers," reads the survey, which polls 715 salespeople from 459 Tier 1 suppliers and tracks supplier sentiment on six of the largest OEMs in North America.
General Motors, Nissan and Stellantis improved their WRI scores, while Toyota and Honda dropped slightly, wrote Plante Moran. Ford fell significantly, falling from fourth place after taking a 23-point tumble.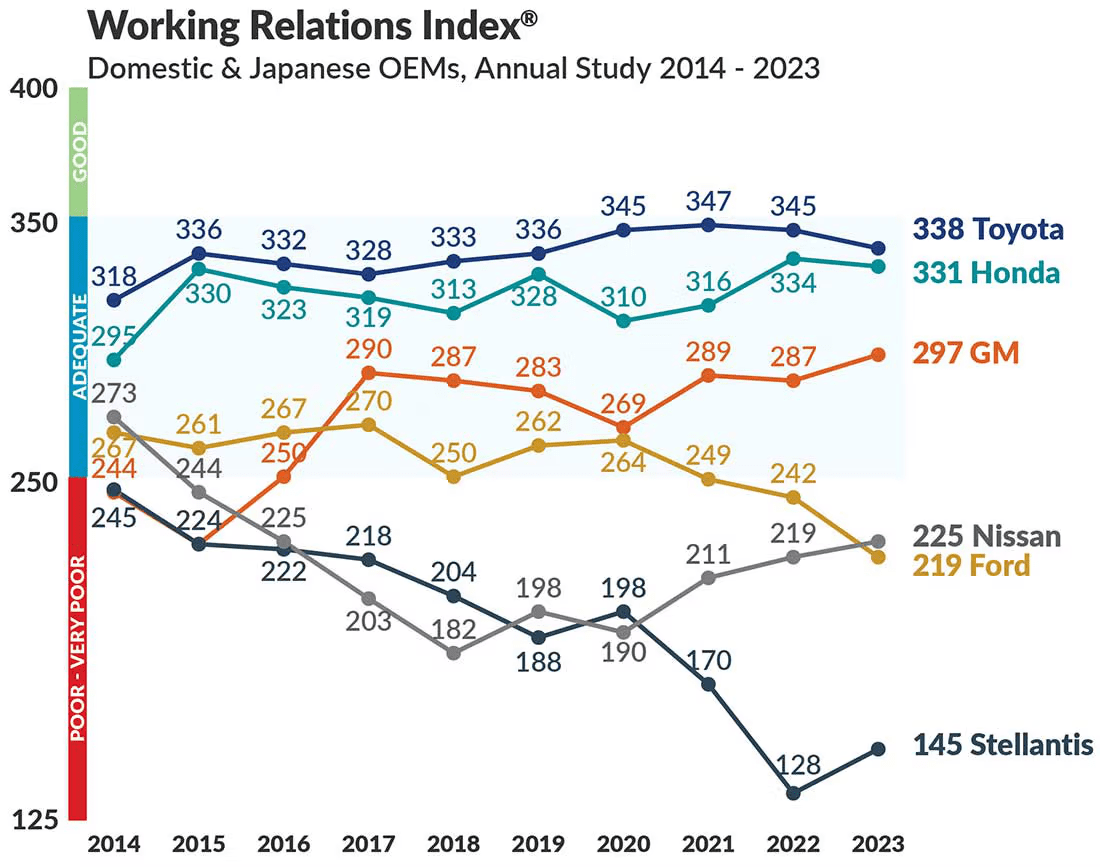 "Stellantis showed the greatest improvement with a gain of 17 points, followed by GM's ten-point gain and Nissan's six-point uptick," reads the company's release.
According to Dave Andrea, principal in Plante Moran's strategy and automotive and mobility consulting practice, which conducts the annual study, Stellantis' increase can be explained, to an extent, by EV transparency. He noted that North American purchasing chief Marlo Vitous has been active in "getting out and communicating and being more accessible" to suppliers.
Ford, on the other hand, confused its suppliers when the OEM split its EV business from its ICE vehicle businesses.
"If they weren't pegged for Model e business, [suppliers] were wondering if that meant they're being completely dis-sourced," Andrea told Automotive News Canada.
"The industry continues to face unprecedented challenges in the shift to EVs that, unless effectively addressed, will only get worse," said Andrea. "During COVID-19, a 'war room' approach was adopted to resolve critical issues quickly. That approach is what auto manufacturers need to maintain during the transition to EV technologies. The industry needs that level of collaboration, even without the pressure of a crisis."
On the upside, the survey also concluded that OEMs have improved supplier relations by incorporating WRI findings into their operations.
"Strong supplier working relations are more than external relations with suppliers. An improving WRI reflects improved OEM cross-functional internal relations and indicates how well purchasing, engineering, and manufacturing are working together — a critical need to achieve faster product development," reads another survey takeaway.
Suppliers also commented on fluctuating costs.
"Cost recovery mechanisms shouldn't be judged in isolation. Inflation-driven cost increases and adjustments need to be addressed in a timely manner that's consistent, tested, institutionalized and supported by OEM and supplier cost reduction efforts.
"OEMs that effectively address these issues are generally stronger customers of choice for suppliers and rate the OEMs better on perceived trust, supplier business return on investment, and rewarding suppliers for high performance," concludes the survey.