By/Par David Nolan
Executive Director, Auto Recyclers Association of Australia
Developments in auto recycling in Australia
Australia and Canada are similar in many ways. There are parallels in our heritage, our culture and in fact in the structure of our auto recycling industry.
Australia has about 20 million cars on the road and about 800,000 ELVs per year, with the numbers in Canada being 20 to 30 percent greater. The automotive recycling industry in Australia may now be like that of Canada pre-2008. But the Retire Your Ride scrappage incentive program introduced by the Canadian Government represented a game changer which the Automotive Recyclers of Canada (ARC) and its affiliates were able to positively embrace.
Your Canadian Auto Recyclers Environmental Code (CAREC) represents a clear statement of the commitment of Canadian businesses to both embracing internationally recognised environmental standards and putting in place processes to secure compliance with them. ARC's certification program represents a model in industry self-regulation in free market economies. Whilst Australia has various State based regulations covering waste oil, refrigerant, tires and the like these relate to individual waste products within an end-life-vehicle. Australian regulators have consistently resisted treating ELVs as a waste stream in their own right. It is therefore difficult for governments to monitor and enforce environmental compliance.
ARC has shown that industry self-regulation based around clear standards and committed industry leadership can be an effective alternate to increased regulation.
One activity that has impacted significantly on the auto recycling industry in Australia has been the introduction of the Compulsory Takata Airbags Recall of March 2018.
As background, the national Consumer Watchdog (ACCC) started to focus on consumer safety issues relating to faulty Takata Airbags in early 2017. It carried out a major investigation including studying developments in the USA and Europe.
Whilst a number of OEMs had initiated voluntary recalls some years earlier the ACCC came to the view that voluntary programs were insufficient. The ACCC issued compulsory regulations from March 2018 with the primary focus being on OEMs replacing faulty Airbags in vehicles on the road. This represented some 5.5 million airbags at that time.
The Recall Notice provided that OEMs must use their best endeavors to account for every faulty Takata airbag they had brought into Australia. The sale of second-hand Affected airbags was made illegal, and auto recyclers were required to check their inventory and notify OEMs of any Recall airbags in their possession. OEMs were then obligated to recover these from the recycler.
The Auto Recyclers Association of Australia (ARAA) was engaged by all OEMs (other than VW Group and Jaguar Land Rover) to collect their faulty airbags from the salvage sector and return these to the OEM.
During the past two years ARAA has undertaken a major program to visit auto recycling businesses nationally and collect airbags as well as obtain VIN files for the purpose of checking on Affected Vehicles previously scrapped. Outcomes from this program include: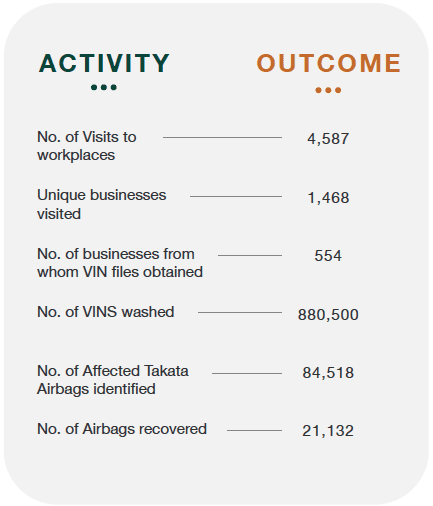 This has represented an unprecedented level of direct contact with auto recycling businesses. It has laid the foundation for continuing engagement around environmental and industry standards issues.
As a consequence, ARAA has already introduced a Certified Automotive Recycler program that borrows heavily from the Canadian experience. We will soon be introducing Retire Your Ride and Car Heaven vehicle scrappage programs into Australia.
CONNECTING
Parachute Software and David Nolan of the Automotive Recyclers Association of Australia (ARAA) were connected through the International Roundtable on Auto Recycling (IRT) forums in Quebec City in 2010 and again in Liverpool in 2012. Both organizations shared a mutual interest in evolving auto recycling processes based on their unique skills and experience.
The first software system conceived by the eventual business partners was the Auto Recyclers Written-Off Vehicle Register in early 2013. This system simplified the process of notifying state road authorities of written off VINs, to increase compliance and reduce concerns of these VINs being repurposed and registered on stolen vehicles. The system captured all of the required information through an online system, and connected this data seamlessly with the individual state authorities, improving reporting and removing a manual, paper-based process.
Faced with a daunting task but important opportunity, ARAA and Parachute worked together again in 2018 to design and deploy software solutions for tracking the removal and destruction of defective Takata Airbags in Australian vehicles. The system was designed to regularly update the list of eligible airbags from vehicle VIN files across all affected OEMs. Auto Recyclers were given access to the software to lookup vehicle VINs and process the airbag return and to certify the destruction of the airbag. Working collaboratively, Parachute assisted ARAA in deploying a mobile app for simplifying the data entry process for improved efficiency and reporting.
Looking forward, ARAA will launch their vehicle scrappage programs in early 2021, with the support of Parachute Software. Based on an agreement with the Automotive Recyclers of Canada (ARC), the Retire Your Ride and Car Heaven brands will be expanded into the Australian market and will continue to evolve partnerships that have existed between Canada and Australia, bringing innovative solutions to the respective countries.
Internationalisation of the Australian Auto Recycling Industry
Auto recycling became a recognized industry from the early 1970's. Prior to that the volume of vehicles and the geographic spread of businesses meant recyclers were predominantly "cottage" businesses.
From the late-1970's a number of operators commenced visits to Japan to buy and import salvage vehicles and parts. For the next 30 years these businesses grew and prospered, many benefitting from the fact that outer metropolitan sites they started on had now become prime development land. From the mid-2000's a number of Middle Eastern, African and Asian countries became major trading hubs for second-hand vehicles and vehicle parts. Australia became of interest as a source for right-hand drive vehicle and parts stock.
There has been a dramatic shift in the salvage market in Australia during the past 15 years with a major focus being on the export of vehicles and parts to trading hubs such as Dubai. The make-up of the industry has also changed with many international family networks becoming established in auto recycling businesses. This is probably reflective of a trend occurring in many other countries.
I would like to recognize the great support Steve Fletcher and Ed McDonald have given our Association over the past decade as we have sought to raise the standards of automotive recycling in Australia.
Hopefully when the Pandemic subsides, we can continue to meet at international events like the International Roundtable on Auto Recycling, scheduled for late 2021 in Japan. Until then we will continue to share resources, successes and challenges between Canada and Australia and like-minded countries and recyclers who want to continue to advocate for professional auto recyclers.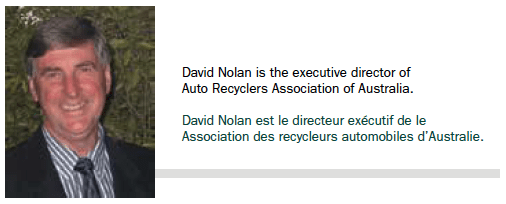 Développements dans le recyclage automobile en Australie
L'Australie et le Canada sont similaires à bien des égards. Il y a des parallèles dans notre héritage, notre culture et en fait dans la structure de notre industrie du recyclage automobile.
L'Australie a environ 20 millions de voitures sur les routes et environ 800 000 VLE par an, les chiffres au Canada étant de 20 à 30% plus élevés. L'industrie du recyclage automobile en Australie pourrait maintenant ressembler à celle du Canada avant l'année 2008. Le programme d'encouragement à la casse «Retire Your Ride» mis en place par le gouvernement canadien a changé la donne que les Recycleurs automobiles du Canada (ARC) et ses affiliés ont pu adopter.
La Code environnemental canadien des recycleurs automobiles (CAREC) représente une déclaration claire de l'engagement des entreprises canadiennes à adopter des normes environnementales internationalement reconnues et à mettre en place des processus pour assurer leur conformité. Le programme de certification de l'ARC représente un modèle d'autorégulation de l'industrie dans les économies de marché libre.
Alors que l'Australie dispose de diverses réglementations nationales couvrant les huiles usagées, les fluides frigorigènes, les pneus et autres, celles-ci concernent les déchets individuels dans un véhicule en fin de vie. Les régulateurs australiens ont toujours refusé de traiter les VLE comme un flux de déchets à part entière. Il est donc difficile pour les gouvernements de surveiller et de faire respecter la conformité environnementale. L'ARC a montré que l'autorégulation de l'industrie basée sur des normes claires et un leadership industriel engagé peut être une alternative efficace à une réglementation accrue.
Une activité qui a eu un impact significatif sur l'industrie du recyclage automobile en Australie était l'introduction du rappel obligatoire des coussins gonflables Takata de mars 2018.
En toile de fond, le Consumer Watchdog (ACCC) national a commencé à se concentrer sur les problèmes de sécurité des consommateurs liés aux coussins gonflables Takata défectueux au début de 2017. Il a mené une enquête d'envergure comprenant notamment l'étude des développements aux États-Unis et en Europe.
Alors qu'un certain nombre de OEM avaient lancé des rappels volontaires quelques années plus tôt, l'ACCC a estimé que les programmes volontaires étaient insuffisants. L'ACCC a publié des règlements obligatoires à partir de mars 2018, l'accent étant mis principalement sur le remplacement des coussins gonflables défectueux dans les véhicules sur la route par les OEM. Cela représentait à l'époque 5,5 millions de coussins gonflables.
L'avis de rappel disait que les équipementiers devaient faire de leur mieux pour rendre compte de chaque coussin gonflable Takata défectueux qu'ils avaient introduit en Australie.
La vente de coussins gonflables affectés était rendue illégale, et les recycleurs automobiles ont été tenus de vérifier leur inventaire et d'informer les équipementiers de tout coussin gonflable de rappel en leur possession. Les équipementiers étaient alors tenus de les récupérer auprès du recycleur. L'Auto Recyclers Association of Australia (ARAA) a été engagée par tous les équipementiers (autres que VW Group et Jaguar Land Rover) pour récupérer leurs coussins gonflables défectueux auprès du secteur de la récupération et les renvoyer à l'OEM.
Au cours des deux dernières années, ARAA entrepris un programme majeur pour visiter les entreprises de recyclage automobile à l'échelle nationale et collecter les coussins gonflables Takata ainsi que obtenir les fichiers VIN dans le but de vérifier les véhicules concernés précédemment mis au rebut. Les résultats de ce programme comprennent: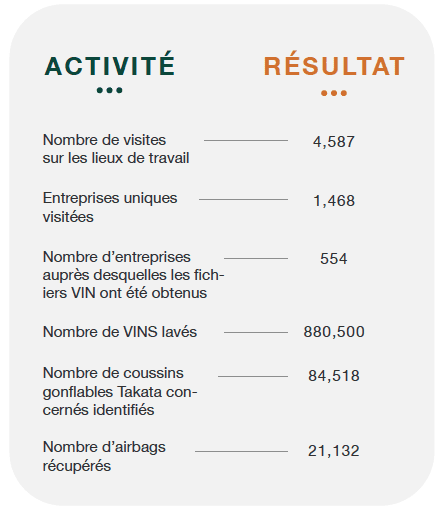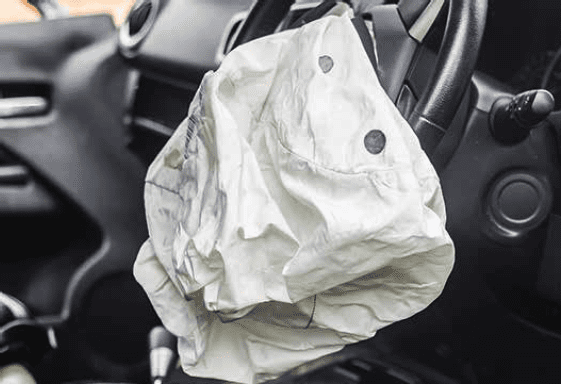 One activity that has impacted significantly on the auto recycling industry in Australia has been the introduction of the Compulsory Takata Airbags Recall of March 2018.

Une activité qui a eu un impact significatif sur l'industrie du recyclage automobile en Australie a été l'introduction du rappel obligatoire des airbags Takata de mars 2018.
Cela représente un niveau sans précédent de contact direct avec les entreprises de recyclage automobile. Il a jeté les bases d'un engagement continu autour des questions de normes environnementales et industrielles. En conséquence, ARAA a déjà mis en place un programme de recyclage automobile certifié qui s'inspire largement de l'expérience canadienne. Nous allons bientôt introduire les programmes de mise à la casse des véhicules Retire Your Ride et Car Heaven en Australie.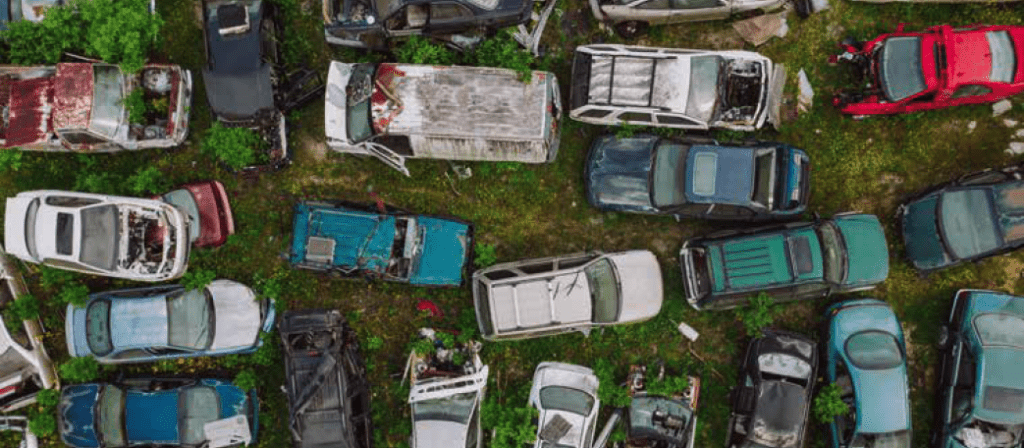 Internationalisation de l'industrie Australienne du Recyclage Automobile
Le recyclage automobile est devenu une industrie reconnue à partir du début des années 1970. Auparavant, le volume de véhicules et la répartition géographique des entreprises signifiaient que les recycleurs étaient principalement des entreprises «familiales».
À partir de la fin des années 70, un certain nombre d'opérateurs ont commencé à se rendre au Japon pour acheter et importer des véhicules et des pièces de rechange. Au cours des 30 années suivantes, ces entreprises ont grandi et prospéré, beaucoup profitant du fait que les sites métropolitains extérieurs sur lesquels elles avaient commencé étaient désormais devenues des terrains de développement de premier ordre. À partir du milieu des années 2000, un certain nombre de pays du Moyen-Orient, d'Afrique et d'Asie sont devenus des centres commerciaux importants pour les véhicules d'occasion et les pièces détachées. L'Australie est devenue une source d'intérêt pour le stock de véhicules et de pièces à conduite à droite.
Il y a eu un changement radical dans le marché du sauvetage en Australie au cours des 15 dernières années, l'accent étant mis principalement sur l'exportation de véhicules et de pièces vers des centres commerciaux tels que Dubaï. La composition de l'industrie a également changé avec l'établissement de nombreux réseaux familiaux internationaux dans les entreprises de recyclage automobile. Cela reflète probablement une tendance qui se produit dans de nombreux autres pays. Je voudrais saluer le grand soutien que Steve Fletcher et Ed McDonald ont apporté à notre association au cours de la dernière décennie alors que nous cherchions à élever les normes du recyclage automobile en Australie.
Espérons que lorsque la pandémie s'atténuera, nous pourrons continuer à nous rencontrer lors d'événements internationaux comme la table ronde internationale sur le recyclage automobile, prévue pour la fin de 2021 au Japon. D'ici là, nous continuerons de partager nos ressources, nos réussites et nos défis entre le Canada et l'Australie et les pays et les recycleurs partageant les mêmes idées qui veulent continuer à défendre les recycleurs automobiles professionnels.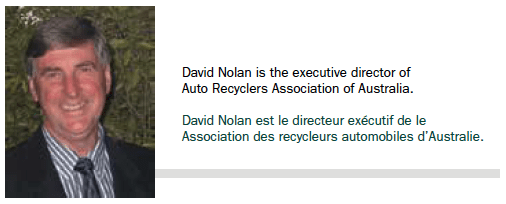 CONNEXION
Parachute Software et David Nolan de l'Automotive Recyclers Association of Australia (ARAA) ont été connectés par le biais des forums de la Table ronde internationale sur le recyclage automobile (IRT) à Québec en 2010 et de nouveau à Liverpool en 2012. Les deux organisations partageaient un intérêt mutuel pour l'évolution des processus de recyclage automobile en fonction de leurs compétences et de leur expérience uniques.
Le premier système logiciel conçu par les partenaires commerciaux éventuels a été le Registre des véhicules radiés auto recycleurs au début de 2013.
Ce système a simplifié le processus d'avis des autorités routières de l'État des VIN radiés, afin d'accroître la conformité et de réduire les craintes que ces VIN soient réutilisées et immatriculées sur des véhicules volés. Le système a saisi toutes les informations requises par le biais d'un système en ligne, et a connecté ces données de manière transparente avec les autorités de l'État, améliorant les rapports et supprimant un processus manuel basé sur le papier.
Confrontés à une tâche ardue mais importante, ARAA et Parachute ont de nouveau travaillé ensemble en 2018 pour concevoir et déployer des solutions logicielles pour suivre l'enlèvement et la destruction des airbags Takata défectueux dans les véhicules australiens. Le système a été conçu pour mettre à jour régulièrement la liste des coussins gonflables admissibles provenant des fichiers niv des véhicules dans tous les équipementiers touchés. Les recycleurs automatiques ont eu accès au logiciel pour rechercher les VÉHICULES VIN et traiter le retour de l'airbag et certifier la destruction de l'airbag. En collaboration, Parachute a aidé ARAA à déployer une application mobile pour simplifier le processus de saisie des données afin d'améliorer l'efficacité et les rapports.
À l'avenir, l'ARAA lancera ses programmes de mise à la ferraille de véhicules au début de 2021, avec l'appui de Parachute Software. Sur la base d'une entente avec les Recycleurs automobiles du Canada (ARC), les marques Retire Your Ride et Car Heaven seront étendues au marché australien et continueront d'évoluer dans des partenariats qui ont existé entre le Canada et l'Australie, apportant des solutions novatrices aux pays respectifs.