Toronto, Ontario ⁠— The Ontario Automotive Recyclers Association (OARA) held the second part of its Spring Education Series last Wednesday, where Car-Part.com's Mendi Evans delivered a crash course in Car-Part Interchange Plus and the platform's newest features.
With those in the live webinar audience familiar with either Pinnacle or Powerlink, Evans explained that customers now have the ability to link Interchange through Powerlink, via the company's CrashLink system.
"This gives you the ability to sell, broker and locate additional parts with Interchange," Evans explained. "We are up to more than 115 different part types that we've created additional interchange for. With PowerLink customers, you can link over 90 parts right now.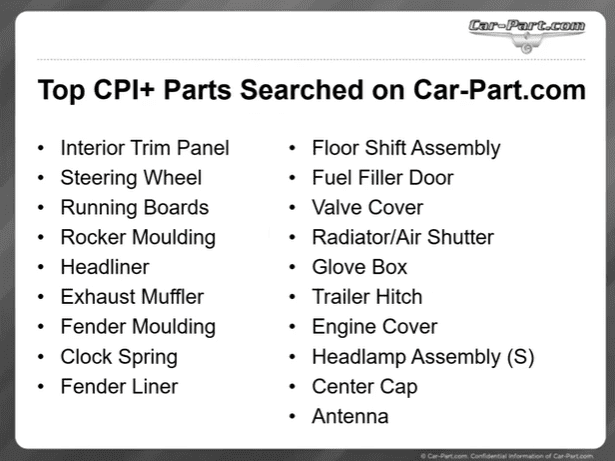 Car-Part's list of most frequently-searched Car-Part Interchange Plus parts.
Formerly, Car-Part's customer search feature used to provide a non-Interchange search said Evans; now, when customers search for CPI+ parts via Car-Part, they're getting radio buttons for the interchange choices.
"Once they hit search, it's going to show the part listings on Car-Part for who has it linked or listed, with the customer's selected interchange choices."
New interchange numbers can also be found on the platform.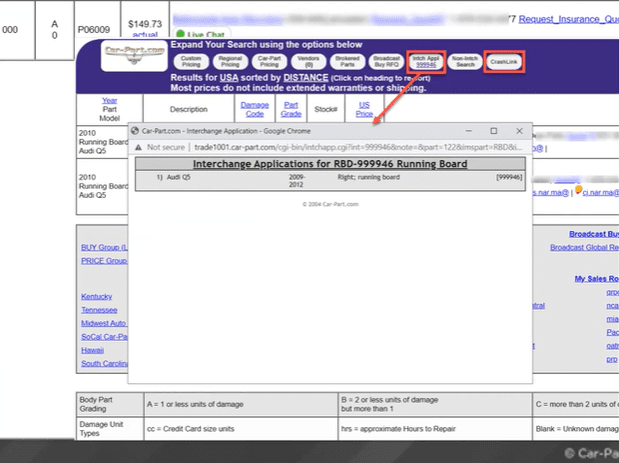 "If you want to see the interchange application while you're in your search results, you can click the hyperlink and that will show you your interchange application."
"We have those broken into three categories: supplemental, which is Mazda and Mitsubishi; full and additional."
Evans also told the audience that Car-Part is open to feedback and interchange contributions, which can be emailed to iccontributions@car-part.com.
Attendees were then shown a demonstration of CrashLink fits into the features.
"You have hotkeys from your regular partner search if you have CrashLink. If you're not going in with those hotkeys, nothing in your search will be populated," said Evans. "I'll have to manually use the dropdown boxes to look up my year, make and model."
The program then populates a list of searchable parts for the selected vehicle, which opens the option to 'add to parts'.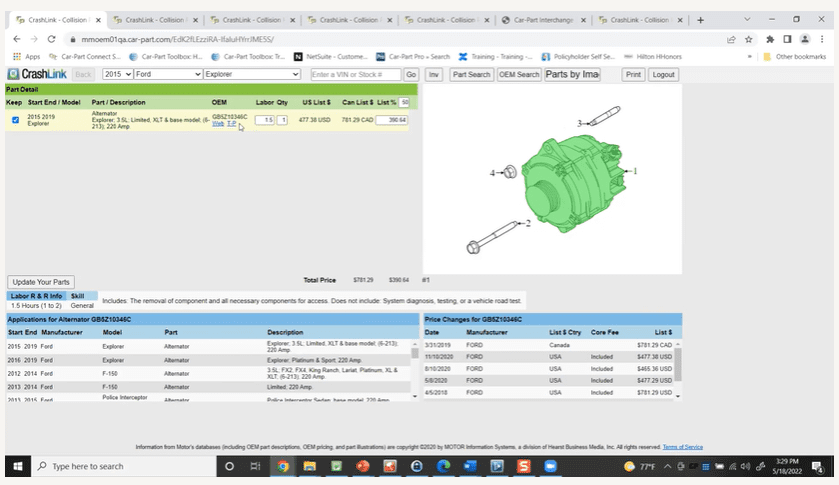 "I have my OEM column and a button that Google searches the part number. This is really helpful if you list parts on eBay⁠—clicking this button will open up anything listed on eBay; usually listings in Canada!"
The program also tracks pricing changes and fits for the part's application, as per make and model.
When a listing is added to 'my parts', it's also added to a part image diagram.
"When you click the 'Parts by image' button, you can match up the ID column with what's in the diagram. Any line item I click is highlighted on the diagram."
Another CrashLink feature is its OEM search feature⁠—different from the Checkmate OEM search as you can search beyond included interchange numbers, explained Evans. CrashLink has more OEM numbers in its database and will scan all of the numbers in your diagram, she added.
Evans then moved to Inventory Mode to show how recyclers can look back on historical records of all CPI+ parts previously inventoried.
"You might have several parts you've inventoried as non-interchangeable parts. You can bring that list into CrashLink, link them, and also add new parts to your inventory list.
"I can also pull a list of all my vehicles that have inventory potential and generate a full list of vehicles at your facility, showing the stock number, the type of vehicle and how many parts on that vehicle have the potential to link with interchange."
The program also gives customers an unresolved part dollar amount per vehicle, among other details.
Evans ended the demonstration with insights on 'analyze mode'.
"If you're going to crush a vehicle or just brought a car in, you can go in analyze mode and look for all parts that may have CPI+ value. This produces a list of parts with CPI+ potential but are specific to the vehicle you are scrapping, bidding on or inventorying."
For more information on Car-Part's product offerings, visit Car-Part.com.
For a recording of the company's session with OARA, please contact steve@oara.com.
OARA's Spring Education Series continues next Wednesday, June 1 at 2 p.m. with a presentation from Chad Counselman, co-founder of Einstein tools and past president of the Automotive Recyclers Association (ARA). To register, contact Steve Fletcher at steve@oara.com.