Steve alongside international delegates at the Automotive Recyclers Association's 75th annual Convention and Trade Show in 2018.
A homage to the ARC managing director's tireless work
It's nearly impossible to imagine Canada's auto recycling industry without the unstinting leadership of Steve Fletcher, managing director of the Automotive Recyclers of Canada.
A near 30-year veteran in the auto recycling world, Steve's dedication to the industry has been a driving force long before the events of 2020. Though, through last year's events, Steve has stood strongly by the community's side. From connecting with international recyclers via Zoom to keep informed of global industry happenings, to advocating for EV awareness efforts and endlessly providing support to recycling business and industry partners from coast to coast, Steve has been a hero to the community amid this global crisis.
Join Canadian Auto Recycler in celebrating Steve Fletcher's dedication to the industry! Steve, your support of the sector and this publication is infinitely appreciated.
Steve Fletcher shakes Ron Bastarache's
hand—this year's CAR cover star!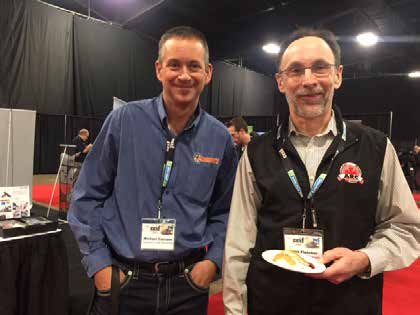 Michael Carcone, owner of Carcone's Auto Recycling, and Steve Fletcher at the Canadian Collision Industry Forum's Toronto event in January 2020.