As salvage prices skyrocket and a global pandemic keeps its customer base at home, Bastarache Auto Parts continues to thrive
Last spring, as COVID-19 made began to spread through North America, Ron Bastarache knew that it would be a rough year for the auto parts and recycling sector. The impact the pandemic had on his business, Bastarache Auto Salvage, was swift and significant. Over the course of a few days, businesses were closed, supply lines were cut and, perhaps most worryingly, people's driving habits changed considerably.
"When the first cases of the virus arrived in Canada, things were unstable for at least a couple of weeks. With no travelling from out-of-province, and not much from within it, the number of walk-in clients we saw dropped significantly," Ron recalls.
Business did not look like it would get back to normal for a long time. As the co-owner of the family business, Ron was concerned about it could survive the social isolation era.
There was a lot riding on it remaining in business—including the livelihood of the company's 25 full-time employees.
"We are not a business that is comfortable letting people go for the sake of convenience. Our employees are mostly locals who have worked here for a long period of time."
Many of them had been with the company for more than three decades. One, Vince Poirier—who Ron describes as a walking encyclopedia of auto parts information—had been with Bastarache Auto Parts for more than half-a-century.
Even the so-called 'new guy' would qualify as an experience industry veteran in most auto recycling facilities.
"The last guy who I hired joined us seven years ago—and he is still working for us," says Ron.
Ron was not the only one shouldering the burdens of command during this stressful period. His sisters, fellow co-owners Helene Burke, Pauline Bourgeois and Monique Babineau were also concerned about the business— and its employees.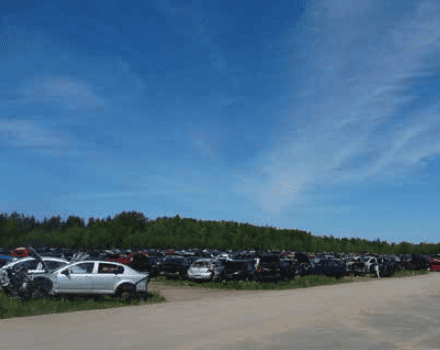 With more than 50 hectares (125 acres) of land available, Bastarache Auto Salvage tends to invest in newer vehicles with the potential to pay-off over the long-term. Avec plus de 50 hectares de terres disponibles, Bastarache Auto Salvage a tendance à investir dans des véhicules plus récents qui ont un potentiel de rentabilité à long terme.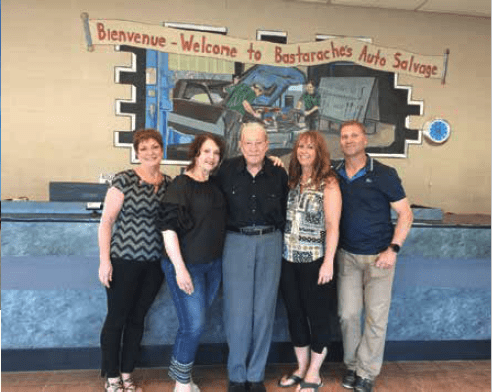 Helene Burke, Pauline Bourgeois, George Bastarache, Monique Babineau and/et Ron Bastarache.
"REGARDING THE EMPLOYEES, IT IS ESPECIALLY THE LOCALS WHO HAVE WORKED HERE FOR A LONG TIME. WE ARE NOT A COMPANY THAT IS COMFORTABLE LETTING PEOPLE GO FOR THE SAKE OF CONVENIENCE. THE LAST GUY I HIRED JOINED US SIX OR SEVEN YEARS AGO – AND HE'S STILL HERE.
As the youngest sibling, Ron spends most of his time overseeing outdoor operations and organizing vehicle purchases while his sisters manage the business' enormous volume of paperwork and front-of-house sales. Perhaps it is this shared approach to the management of the business which allowed them to chart a path through the crisis.
"We have a good relationship. We all have our part to do. We all get along well, and we all get our work done."
His father, George Bastarache, was also prepared to offer his wisdom throughout the crisis. Though he has stepped away from his role as the business's general manager, Ron's father still visits the workplace on a daily basis. "Since dad has been in the business for a long time, he dealt with the challenges of building it up. Sure, my sisters and I have been able to grow it—but without the reputation he established for it, that wouldn't have been possible." At 90 years old, the Shediac River-born founder of Bastarache Auto Parts had a lot of experience staying afloat—through good times and bad. In 1950, at the height of the post-war nickel boom, George had been drawn in by the bright lights of Sudbury, Ontario.
Over the next 15 years, George made his way up in the world—first working as a miner at INCO's Creighton Mine, before moving into a new role managing a gas station and garage.
A proud Acadian, though, George found himself returning to New Brunswick in 1965—the year he launched Bastarache Auto Salvage.

The business had a humble start. After operating outdoors and in a repurposed barn for its first four years, George decided it was time to expand the business. Investing in a nearby industrial lot, he spearheaded the construction of a new garage. For the next three decades, the business thrived—something Ron credits to George's commitment to customer service.

"When I was young, my father said that, 'When you get a customer who is not happy, you have to do your best to make it right for him," recalls Ron, who says this lesson has stuck with him. "For example, if an engine is proven defective shortly after our six-month warranty, we will still honour it—depending on the situation."

In 1994, as George moved into a less hands-on role in the company, he realized another expansion was needed if the business was going to continue to thrive. Before stepping away from a leadership role, he decided to oversee the construction of a huge new facility—including a 1,000 sq m warehouse, a new garage and an office building equipped with a cutting-edge computer inventory system.

Even with his sisters and father behind him, Ron was not confident about the position of the future of Bastarache Auto Salvage. For one thing, the business model, which had served the store so well for its first five decades, had become less reliable in the years leading up to the global pandemic. "For many years, we depended on insurance companies' auto salvage agreements to provide us with wrecked automobiles. At one point, we had seven salvage contracts. That dwindled to just two."

Bastarache Auto Salvage is hardly alone in seeing its access to good, affordable damaged vehicles through insurance companies' contracts. As vehicle salvage has become more expensive, auction houses have secured a place as a profit-generating middle-man in the trade of wrecks.
Before retiring from his leadership position, George Bastarache oversaw the construction of a huge new facility—including a 1,000 sq m warehouse, a new garage and an office building equipped with a cutting-edge computer inventory system.
Vant de prendre sa retraite, George Bastarache a supervisé la construction d'une nouvelle installation gigantesque, comprenant un entrepôt de 1 000 mètres carrés, un nouveau garage et un immeuble de bureaux équipé d'un système d'inventaire informatique de pointe.
"MY FATHER HAS WORKED IN THIS COMPANY FOR A LONG TIME AND TOOK UP THE CHALLENGES OF STARTING THE BUSINESS. OF COURSE, MY SISTERS AND I WERE ABLE TO CULTIVATE IT, BUT WITHOUT THE REPUTATION IT ESTABLISHED, IT WOULD NOT HAVE BEEN POSSIBLE."
This trend, of course, means that Ron's work of purchasing vehicles from auction houses has become far more important to the company than it was in the past. It also means that securing a steady supply of damaged vehicles is becoming more and more costly, both in terms of time and money.
"Just five years ago, we were running through approximately 2,000 to 2,500 vehicles each year. Now, we struggle to get between 1,200 to 1,500." Then, of course, there were the changes in consumer behaviour, which, to some extent, also predated the pandemic.
"I started working here full time in 1988. For most of our sales, the ratio of our walk-in sales to shipping sales was about 85/15. At the present time, we are about 70/30."
Here as well, Ron's focus on net-based sales has helped the business adapt. The business was an early and enthusiastic entrant into the intra-industry parts trading game.
"It used to be that if we didn't have a part, we would direct our customers to another company who might have it. Of course, now we want to satisfy our customers and we will order the part for them. Our competitors do it as well. It is a system that means we work together, even as we compete." While spearheaded by Ron, he credits his father's customer-first business philosophy for helping him see the potential in checking other businesses' inventories before letting a prospective customer leave unsatisfied. Even as Ron worked to keep up with rising salvage prices and a diminishing number of walk-in clients, COVID-19 threatened to undo his hard work. With the sudden end of inter-provincial travel, the number of walkins dropped precipitously. With fewer vehicles on the road, salvage prices began to spike.
"Because auction houses work over the internet, competition for salvage is now global. With supplies falling, we are now seeing a greater portion of Canadian salvage going overseas."
Ron's assessment is reflected in the scant financial information available about the auto salvage auction industry. While other aftermarket sectors have been among the worst hit parts of the global economy, the salvage supply shock appears to be treating auction businesses very well. In fact, Copart, a global leader in online car auctions, saw its shares rise by more than 10 per cent in 2020.
To make matters even worse for Bastarache Auto Salvage, this price hike didn't just hit the family company in its pocketbook. It also made it harder for the business to secure specific vehicles.
"Unlike other smaller salvage yards, we try to focus on processing newer vehicles. We often only see our return on investment after a period of four to five years. This would be hard to do if we didn't have the space to work with. With 125 acres at our disposal, we don't have to crush vehicles even if it has been sitting in our yard for five years or more."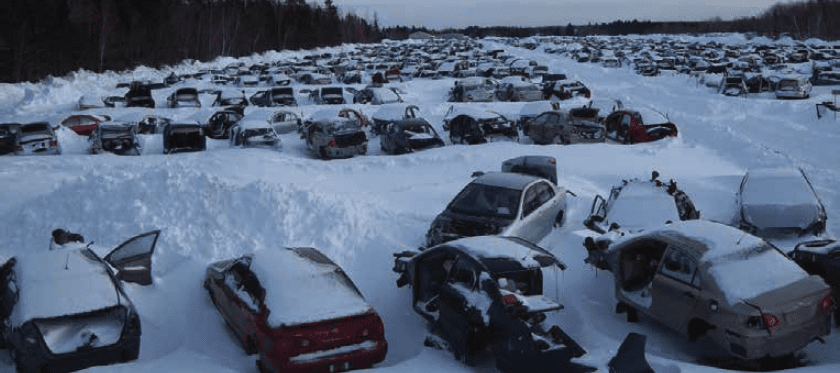 A cold winter: "When the first cases of the virus arrived in Canada, things were unstable for at least a couple of weeks. With no travelling from out-of-province, and not much from within it, the number of walk-in clients we saw dropped significantly," said Ron Bastarache.
Un hiver froid: "Lorsque les premiers cas du virus sont arrivés au Canada, les choses étaient instables pendant au moins deux semaines. Comme il n'y avait pas de déplacements en dehors de la province, et peu de déplacements à l'intérieur de la province, le nombre de clients sans rendez-vous que nous avons vus a considérablement diminué", a déclaré Ron Bastarache.
With people from across the globe bidding for the same diminishing number of salvage vehicles, we presently see a steadily growing number of competitors taking risks on expensive, long-term investments like the ones Bastarache Auto Salvage specializes in. In the past, we were able to acquire a large selection of vehicles; nowadays, it is more of a battle.
"As the pandemic continued, the perfect storm it created for the Bastarache family business did not abate. Even as the prices began to rise, the business, somehow, managed to continue to thrive. This situation has been both good and bad for our business. As we began to compete more and more for salvage, we have been seeing an increase in part orders from outside the province." Bastarache Auto Salvage was, like many other businesses, seeing an increase in its online sales as people from across Canada embraced digital shopping. This increase in out-of-province customers wasn't the only thing keeping the business sharp. Its loyal local customer base also continued to frequent it. Moncton, like many other areas in New Brunswick which remained largely virus free—making the shop itself a welcome place for house-bound car enthusiasts.
"Some things just don't change. People do like to come to our store to see that they have been treated properly."
Ron is happy to say that despite the fact that the market conditions continue to look rocky, the business has been able to keep all of its employees. Now more than six months into the pandemic, he is also confident that the whole team will remain intact.
Moreover, he feels that while the auto recycling sector can see other challenges on the horizon, keeping the business going through this pandemic will be the last major crisis of his career.
"In the next fifteen years, the price for electric vehicles might be low enough that the auto recycling industry will need to have a plan for dealing with them. With the new technology, it could also mean that there will be less accidents," says Ron. "Perhaps things might be more bumpy than they are now, but who's to know? We will deal with those circumstances when they arise.
In Ron's mind, the solutions to these problems are likely to come from the succeeding generation of Bastaraches. Ron's two sons and one of his nephews are building their career might be worthy prospects of the family business. "I will leave the future problems for the next generation to cope with."
Alors que les prix de récupération montent en flèche et qu'une pandémie mondiale maintient sa clientèle à la maison, Bastarache Auto Parts continue de prospérer
Lorsque les premiers rapports de patients atteints de coronavirus en Amérique du Nord ont été confirmés, Ron Bastarache de Barastache Auto Parts savait que le secteur des pièces automobiles et du recyclage était sur le point d'être déraciné.
«Lorsque le virus est arrivé pour la première fois au Canada, il était difficile, au moins pendant quelques semaines. Il n'y avait pas de déplacement depuis l'extérieur de la province, ce qui a réduit le nombre de clients sans rendez-vous », déclare Ron.
Les choses ne se sont pas améliorées rapidement. En quelques jours, des entreprises ont été fermées, des lignes d'approvisionnement coupées et – peut-être le plus inquiétant – les habitudes de conduite des gens ont considérablement changé.
En tant que copropriétaire de Barastache, Ron se demandait si l'entreprise serait en mesure de traverser l'ère de l'isolement social.
En plus de son stress, il y avait les moyens de subsistance des 25 employés à plein temps de l'entreprise. Nombre d'entre eux travaillaient dans l'entreprise depuis plus de trente ans, et un – Vince Poirrier, une encyclopédie ambulante d'informations sur les pièces automobiles – depuis plus de 50 ans. Heureusement pour Ron, il n'était pas le seul à assumer le fardeau du commandement. Il partage ses responsabilités de leadership avec ses soeurs, Helen Burke, Monique Babineau et Pauline Bourgouis. En tant que plus jeune frère, Ron passe le plus clair de son temps à superviser les opérations extérieures et à organiser les achats de véhicules, tandis que ses soeurs gèrent l'énorme volume de paperasse de l'entreprise et la gestion des ventes à la maison.
«Nous avons une bonne relation. Nous avons tous notre part à faire, nous nous entendons tous et nous faisons tous notre travail. Ron avait une autre personne à ses côtés pendant que le monde – et le secteur du recyclage automobile – était bouleversé par la pandémie. Son père, George Bastarache.
Aujourd'hui âgé de 90 ans, George avait fondé Bastarache Auto Parts en 1965. Passionné d'automobile né à Moncton, George avait été attiré par les lumières vives de Sudbury pendant les premières étapes du boom du nickel d'après-guerre. Après quelques années comme mineur à la mine Garson-Falconridge, George avait lancé son propre service de garage à Sudbury avant de retourner dans sa ville natale pour fonder Bastarache Auto Parts.
Sept ans après l'ouverture de l'entreprise, George a élargi l'entreprise avec un nouveau site sur un terrain de 60 acres. Au moment où il est passé à un rôle moins pratique dans l'entreprise en 2005, George avait également supervisé la construction d'un entrepôt de 9 000 pieds carrés et le développement d'un système d'inventaire informatique. Aujourd'hui, bien qu'il ne soit pas aussi activement impliqué dans la direction de l'entreprise qu'au cours des premières années du 21e siècle, George arrive toujours au travail et offre à ses enfants son propre point de vue expérimenté sur les problèmes auxquels ils sont confrontés.
«Mon père travaille dans cette entreprise depuis longtemps et a relevé les défis de la création de l'entreprise. Bien sûr, mes soeurs et moi avons pu le cultiver, mais sans la réputation qu'il a établie, cela n'aurait pas été possible. » Malgré le soutien des membres de sa famille et de ses collègues, Ron a estimé que l'entreprise avait été malmenée. D'une part, le modèle commercial qui avait si bien servi le magasin pendant ses cinq premières décennies était devenu moins fiable dans les années qui ont précédé la pandémie mondiale. «Pendant de nombreuses années, nous nous sommes appuyés sur des contrats avec des compagnies d'assurance pour nous fournir des voitures accidentées. À un moment donné, nous en avions sept, mais maintenant, ce chiffre est tombé à deux seulement.
Barastache Auto Parts n'est pas la seule à voir son accès à des épaves d'automobiles fiables et peu coûteuses par l'intermédiaire des compagnies d'assurance commencer à se tarir. Comme la récupération de véhicules est devenue plus coûteuse, les maisons de ventes aux enchères sont venues se faire une place d'intermédiaire dans le commerce des épaves.
Cette tendance, bien sûr, signifiait que le travail de Ron en achetant des véhicules auprès des maisons de ventes aux enchères était devenu beaucoup plus important pour l'entreprise que par le passé. Cela signifiait également, cependant, que garantir un approvisionnement régulier en véhicules devenait de plus en plus coûteux, à la fois en termes de temps et d'argent. «Il y a à peine 15 ans, nous roulions chaque année entre 1 500 et 2 000 voitures. Maintenant, nous avons tendance à avoir entre 1 200 et 1 500. » Ensuite, bien sûr, il y a eu les changements de comportement des consommateurs – qui ont également précédé la pandémie.
«EN CE QUI CONCERNE LES EMPLOYÉS, CE SONT SURTOUT LES LOCAUX QUI TRAVAILLENT ICI DEPUIS LONGTEMPS. NOUS NE SOMMES PAS UNE ENTREPRISE QUI EST À L'AISE DE LAISSER LES GENS PARTIR POUR DES RAISONS DE COMMODITÉ. LE DERNIER GARS QUE J'AI EMBAUCHÉ S'EST JOINT À NOUS IL Y A SIX OU SEPT ANS – ET IL EST TOUJOURS LÀ.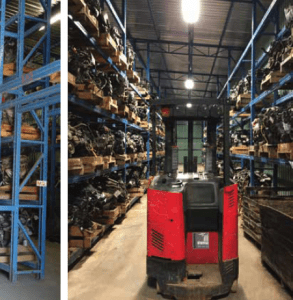 «J'ai commencé à travailler ici à plein temps en 1988. Pour l'essentiel, notre ratio des ventes sans rendez-vous sur les ventes d'expédition était d'environ 85/15. Maintenant, bien sûr, nous sommes à environ 40-60, sinon égaux. " Ici aussi, l'accent mis par Ron sur les ventes en ligne avait aidé l'entreprise à s'adapter. L'entreprise a été une des premières – et enthousiaste – à entrer dans le jeu du commerce de pièces intra-industrie.
«Auparavant, si nous n'avions pas la pièce, nous orientions nos clients vers quelqu'un qui le pourrait. Maintenant, bien sûr, nous essayons de le commander. Nos concurrents aussi. C'est un système qui signifie que nous travaillons ensemble, même lorsque nous sommes en concurrence, et d'une manière que nous n'avions jamais fait auparavant.
Bien que dirigé par Ron, il attribue à la philosophie d'entreprise de son père l'avoir aidé à voir le potentiel de vérifier les inventaires d'autres entreprises avant de laisser un client potentiel partir insatisfait.
«Quand j'étais jeune, mon père disait que« quand tu as un client qui n'est pas content, tu dois faire de ton mieux pour que ça se passe avec lui », dit Ron. «C'est pourquoi, si un moteur casse un mois ou deux après la fin de notre garantie de six mois, nous l'honorons toujours. C'est aussi la raison pour laquelle je suis prêt à payer la part d'un concurrent, même s'il mange notre marge. »
Alors même que Ron travaillait pour maintenir Bastarache Auto Parts à la hauteur des prix de récupération croissants et du nombre décroissant de clients sans rendez-vous, COVID-19 a travaillé pour intensifier la menace que ces défis posaient. Avec la fin soudaine des voyages interprovinciaux, le nombre de personnes sans rendez-vous a chuté précipitamment. Avec moins de véhicules sur la route, les prix de récupération ont commencé à grimper. «Parce que les maisons de ventes fonctionnent sur Internet, la concurrence pour le sauvetage est maintenant mondiale. Avec la baisse des approvisionnements, nous voyons maintenant une part beaucoup plus importante du sauvetage canadien aller à l'étranger.
L'évaluation de Ron se reflète dans les rares informations financières disponibles sur le secteur des enchères de récupération automobile. Alors que d'autres secteurs du marché secondaire ont été parmi les secteurs les plus touchés de l'économie mondiale, le choc de l'offre de récupération semble très bien traiter les entreprises de vente aux enchères. En fait, Copart, la plus grande entreprise, a vu ses actions augmenter en octobre pour cent plus haut que son filigrane pré-pandémique.
Pour aggraver encore les choses pour Bastarache Auto Parts, cette flambée de prix n'a pas seulement frappé l'entreprise familiale dans son portefeuille. Cela a également rendu plus difficile pour l'entreprise de sécuriser les véhicules spécifiques dans lesquels elle se spécialisait.
«Contrairement à beaucoup de petits chantiers, nous essayons de nous concentrer sur le traitement de véhicules plus récents. Souvent, nous n'observons des retours sur investissement qu'après quatre à cinq ans. Ce serait difficile à faire si nous n'avions pas autant d'espace pour travailler. Avec 60 acres à notre disposition, cependant, nous n'avons pas besoin d'écraser quoi que ce soit à moins qu'il ne reste dans notre cour depuis dix ans ou plus. " Alors que les soumissionnaires du monde entier soumissionnaient désormais pour le même nombre de véhicules de sauvetage, de plus en plus de concurrents ont commencé à prendre des risques sur des investissements coûteux à long terme comme ceux de Bastarache.
«Avant, nous avions toutes sortes de voitures qui arrivaient. Maintenant, c'est plus difficile. Les enchères signifient que tout se déroule rapidement, ce qui rend plus difficile l'évaluation de la valeur de la récupération. » Alors que la pandémie continuait, la tempête parfaite qu'elle a créée pour l'entreprise familiale Bastarache ne s'est pas calmée. Mais, même lorsque les prix ont commencé à augmenter, l'entreprise a réussi à continuer à prospérer. «Cette situation a été à la fois mauvaise et bonne pour notre entreprise. Alors que nous commencions à être de plus en plus compétitifs pour la récupération, nous avons commencé à recevoir de plus en plus de commandes de pièces de l'extérieur de la province.
Bastarache Auto Parts a vu, comme de nombreuses autres entreprises, une augmentation de ses ventes en ligne alors que les gens de partout au Canada ont adopté les achats numériques.
Mais cette augmentation du nombre de clients hors de la province n'a pas été la seule chose qui a permis à l'entreprise de rester en forme – sa clientèle locale fidèle a également continué à fréquenter l'entreprise. Moncton, comme de nombreuses régions du Nouveau-Brunswick, est restée en grande partie exempte de virus, ce qui fait de l'atelier lui-même un endroit bienvenu pour les passionnés d'automobiles à domicile.
«MON PÈRE TRAVAILLE DANS CETTE ENTREPRISE DEPUIS LONGTEMPS ET A RELEVÉ LES DÉFIS DE LA CRÉATION DE L'ENTREPRISE. BIEN SÛR, MES SOEURS ET MOI AVONS PU LE CULTIVER, MAIS SANS LA RÉPUTATION QU'IL A ÉTABLIE, CELA N'AURAIT PAS ÉTÉ POSSIBLE. »
«Nous sommes près de 50-50 en ce qui concerne les clients sans rendez-vous et en ligne, mais je pense que les choses resteront là. Certaines choses ne changent pas seulement – les gens aiment se promener. En personne, ils savent qu'ils auront l'impression d'avoir été bien traités.» Ron est fier de dire que, même si les conditions du marché continuent de paraître difficiles, l'entreprise a pu garder tous ses employés. Maintenant plus de six mois après le début de la pandémie, il est également convaincu que toute l'équipe restera intacte de l'autre côté. De plus, il estime que, même si le secteur du recyclage automobile peut voir d'autres défis à l'horizon, maintenir l'entreprise en marche pendant toute la pandémie sera le plus grand défi de sa carrière.
«Dans quinze ans, les prix des véhicules électriques seront suffisamment bas pour que l'industrie du recyclage automobile doive avoir un plan pour y faire face. Les nouvelles technologies signifieront également qu'il y aura moins d'accidents », dit Ron. «Les choses pourraient être encore plus difficiles qu'elles ne le sont maintenant, et je ne sais pas comment l'aborder – je ne pense pas que quiconque le fasse.
Dans l'esprit de Ron, les solutions à ces problèmes viendront probablement de la prochaine génération de Bastaraches. Déjà des membres expérimentés de l'équipe, les deux fils et le neveu de Ron ressemblent à de dignes héritiers de l'entreprise familiale. "Je vais laisser ces problèmes pour eux de résoudre.