Toronto, Ontario ⁠— The Ontario Automotive Recyclers Association (OARA) kicked off its Spring Webinar Training Series last Wednesday with a session featuring J.C. Cahill and Todd Ensworth of VINMatchPro.
Cahill has been in the industry since he was "a young man," he told the OARA audience and has worked in high-level roles for several industry corporations. Ten years ago, he opened New England Auto & Truck Recyclings, which became the largest PRP and trading partner in the U.S. with 66 acres, 75 employees, US$30 million in revenue processing approximately 500 cars per month. 
After the business was sold to Pheonix, Cahill and Ensworth began exploring ways to improve the industry, landing on the question, "How do we get the most from the VIN number?"
When investigating credit returns, the duo noticed that the number-two reason was in circumstances where the wrong part was ordered or the wrong part was supplied. They then developed an idea around a tool for salespeople⁠—"to give them everything they need to allow good buying, selling and purchasing decisions."
"Through VINMatchPro, salespersons have mileage history at their fingertips."
"These details matter on three levels," explained Cahill. "Number one, it builds confidence on the call for the customer and the seller. Number two, all recyclers tell the truth about mileage⁠—they never fat-finger a mileage⁠. And, number three: our ability to purchase parts on EDEN, Pinnacle or Checkmate that are zero-priced parts that people just don't spend the time doing the mileage history on."
Cahill elaborated using experience from his time at high-level companies in the recycling sector.
"Oftentimes salespeople tend to go to the lowest mileage unit and the highest price first, regardless of what the customer is looking for."
Through VINMatchPro, Cahill argued that salespeople are able to make "very good" buying and selling decisions catered to customer requests.
Cahill demonstrated the tech using the plate number from an Uber ride he took recently. 
"Your salespeople now have plate-to-VIN decoding," he added. 
When you hit the 'decode VIN' tap, Cahill said the program allows insight to build-level data that allows recyclers to make decisions without having to speak with a dealer.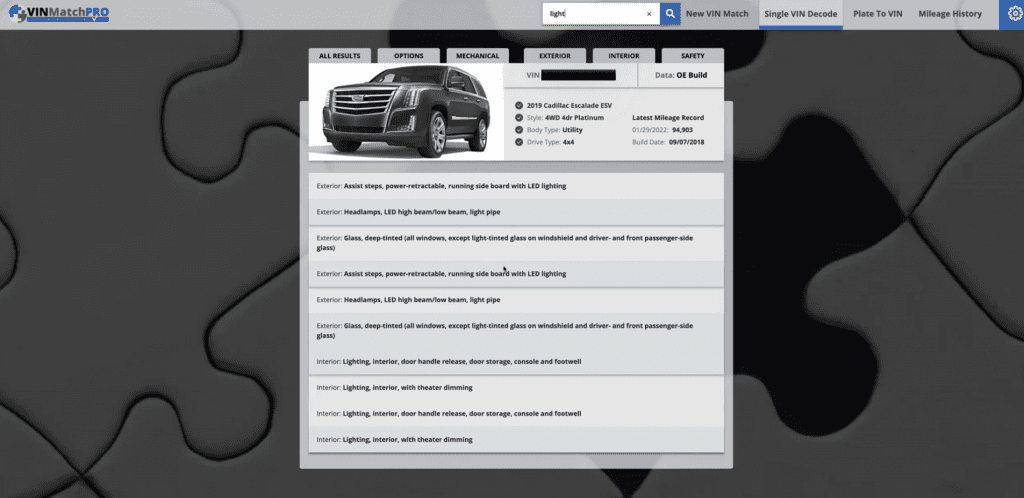 Cahill added that, if a bodyshop were in need of a part⁠—say, a vehicle gate⁠—a salesperson using VINMatchPro would know the answers to the interchange questions.
"That's a significant advance⁠—more than we've ever had," he stressed. 
Each time you decode a VIN, the program will show the latest mileage record, said Ensworth. 
"Personally, I think one of the coolest things about our program is that we have data on every single make and model, from 1980 to the current model year."
The duo then challenged the audience to give an example of a "hard vehicle to decode," to which an audience member suggested a '06 Maserati Quattroporte. 
Where "the dollars meet the donuts," said Cahill, is under the program's New VIN Match feature.
"You can take a tag number or VIN number and compare them." 
Ensworth then compared two pickups⁠—a 2017 Chevrolet Silverado 1500, 4WD Crew Cab LT and a 2017 Chevrolet Silverado, 4WD Crew Cab LTZ⁠—which appeared to be the same upon a recent eBay order. In actuality, said Ensworth, the two vehicles touted entirely different transmissions.
"We had an eBay listing for an eight-speed transmission out of a '17 Silverado," explained Ensworth. "My team then decoded the customer's VIN⁠—everything matched what we had in Pinnacle. We would have gone ahead and shipped that transmission, but since we have this tool, we put in our VIN from the donor vehicle we were sold and realized the transmission was actually a six-speed.
"We would've most likely shipped the wrong part to the customer⁠because everything matched between the customer's VIN and what was in Pinnacle for this order. We would have paid to ship the pallet to get it there and back, then ship the right one back to them. Thanks to VINMatchPro, this one little mistake was caught before it got out the door." 
Cahill stressed that VINMatchPro is designed as a VIN-matching and VIN-decoding product; not a part number or interchange product.
"We cannot go one more step," he said. "We are going to have some integrations with inventory Buddy and BidBuddy, but what we won't be offering are any part number descriptions. We just give you the information so you may make the correct interchange decision." 
For more information on VINMatchPro, visit vinmatchpro.com. 
OARA's Spring Education series continues next Wednesday at 3 p.m. ET with Jeff Schroder of Car-Part.com, who will discuss the company's Car-Part Interchange Plus.