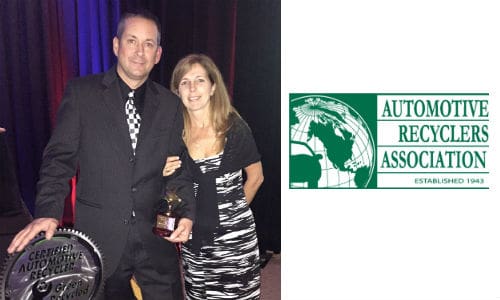 By Mike Davey
Charlotte, North Carolina — October 12, 2015 — Congratulations go out to Michael and Carolyn Carcone for their big win at the Automotive Recyclers Assocation (ARA) Annual Convention & Exposition, taking home two prestigious awards. The ARA event took place in Charlotte, North Carolina from October 7 to 10.
Owners of Carcone's Auto Recycling in Aurora, Ontario, the pair were presented with the prestigious Certified Auto Recycler of the Year award at the ARA Gala this weekend. In addition to the Star Award, they also received the inaugural Randy Reitman Memorial Traveling CAR Award.
Michael and Carolyn Carcone are the first recipients of this award. The award is named after Randy Reitman, an ARA Past President and a true believer in the power of certification within the automotive recycling industry.
For more information on Carcone's Auto Recycling, please visit carcone.com.